Hot treats for cold comfort
Share - WeChat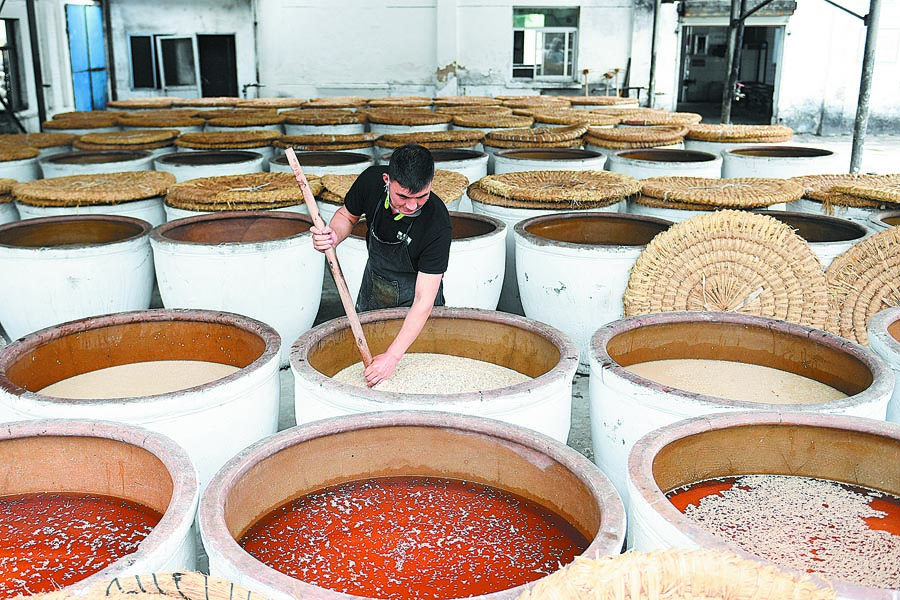 'Quiet melody'
In Shaoxing, Zhejiang province, it is tradition to start brewing rice wine on lidong when the temperature is low and the well water clear. It is said that making liquor on such a day can effectively inhibit the breeding of bacteria and help the drink accumulate a good flavor during the longer low-temperature fermentation process.
An old saying in Nanjing, Jiangsu province, goes, "half a spring onion a day brings energy to your legs in winter". As soon as winter begins, Nanjing residents pay special attention to eating raw green onions to resist the dampness and coldness of winter. In traditional Chinese medicine, green onion is deemed warm and pungent in nature, which can make people sweat, so that the stagnant qi, life force or vital energy in the body, is discharged with the sweat. When qi circulates smoothly, diseases are driven out.
Around lidong, many households along the Yangtze River dry cured pork. If it happens to be a sunny day, one could spot strips of salted meat hanging on gates swaying in the wind as if forming a "quiet symphony" of wind chimes. As the weather turns colder, meat does not deteriorate, and the moisture can keep the skin from cracking. The combination of the two cultivate the best state of the preserved pork, which allows the salt and seasoning to merge with the meat. In this way, people there can treat themselves at any time in winter.
"The 24 solar terms are buttons at different positions in the four-season cycle playback system. These keys control different melodies, some intense, some soft, some cheerful, some slow. After pressing the lidong button, there is a soothing and quiet melody, and all things enter a period of dormancy and recuperation," says folklore expert Guo Wenbin.