Charge of the light brigade
Share - WeChat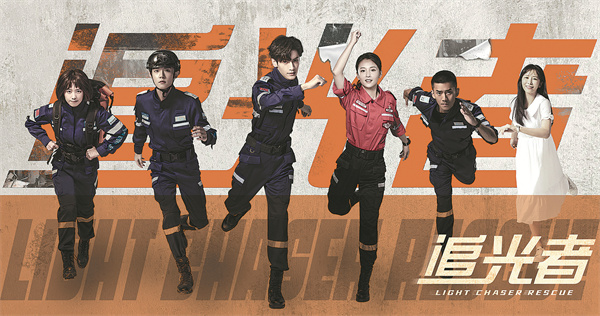 Episodes highlight heroic and often unsung work of those who risk everything for others, Xu Fan reports.
Almost a year since concluding the shooting of Light Chaser Rescue, director Zhang Tong still clearly remembers the behind-the-scenes details of an episode featuring the search and rescue of survivors of a devastating magnitude 6.0 earthquake.
Consisting of a total of 40 episodes, the online series, currently running on the streaming sites Tencent Video and Mango TV, is inspired by real-life stories and interviews with more than 100 civilian rescuers from more than 10 provinces and municipalities.
The aforementioned episode recounts the story of a team from the fictional, titular rescue organization discovering three people — a primary school principal, a female teacher and a young student — trapped in the rubble of a collapsed school.
Zhang recalls that he conceived a scenario where the rescuers cautiously dig down from the top, painstakingly removing the rubble to save the trapped people. However, the director was told it would be an "erroneous practice" that may inflict further distress on survivors.
The advice was given by several team heads from Blue Sky Rescue, China's largest nonprofit civil rescue organization, who were invited to work with the crew to ensure the scenes and rescue techniques match reality.
"When we were shooting the drama, they sat with me behind the monitors, providing a lot of useful and professional suggestions," recalls Zhang.
Most Popular