Hot treats for cold comfort
Share - WeChat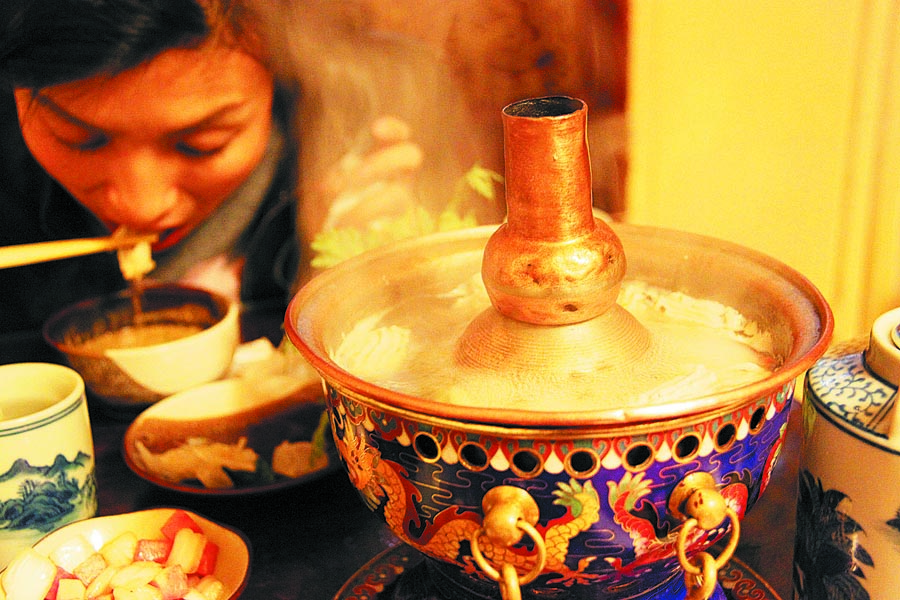 Northern taste
On lidong, at the turn of the season, eating nourishing food with a sense of ritual is perhaps what Chinese people cherish the most, a philosophy that conforms to the natural rhythm of creatures on Earth.
It is a time when the autumn harvest of the year prompts people to have the most sense of accomplishment, and it is also a time when they can relax and reward themselves.
Lidong in Beijing is inseparable from a meal of plump and warm lamb. People would smack their lips over the attractive layer of succulent lamb. The locals don't have a unified answer to the style of cooking, but deciding how to eat the meat is itself a winter ritual.
Many natives of Beijing opt for iron plate lamb barbecue. The crackling wood fire in the stove raises the temperature of the iron plate and adds a touch of aroma to the lamb that is roasted on it. When the iron plate starts to get hot, a sophisticated eater will brush a thin layer of oil and spread slices of onion and ginger, and cooking wine over the marinated lamb. The excess lamb fat drips away through the gaps of the plate onto the aromatic firewood, adding more flavor to the meat. The sound of sizzling oily meat popping in the ear, flakes from the fire dancing in the eyes and the fragrance of slowly roasting lamb wafting into the nostrils are probably the most nostalgic sensory experiences of winter in Beijing.
For most northerners, lidong is never complete without the classic Mongolian copper hot pot. Blanching a few slices of lamb as thin as cicada wings into the clarified soup base with floating wolfberries is a refined knowledge of its own in terms of keeping the lamb tender at its best timing. After the slices gradually curl up, a gourmet would dip them into a bowl of some specially made sesame sauce, fermented bean curd and mashed leek paste to complement an incredibly flavorful dish in every way.