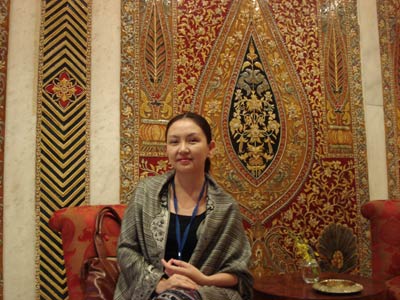 Lola: Chief Producer of the Yunnan Film Project takes a picture.
Osian's-Cinefan is one of Asia's leading film festivals devoted principally to Asia and the Arab world. Established in 1999 in New Delhi in July every year, the Festival enjoys an international reputation for the quality of films screened over nine days. This year there are nearly 40 countries with 140 films entering the festival.
The Festival is organized by Osian's Connoisseurs of Art, India's pioneering arts institution and auction house established in 2000, to create a merit-oriented and financially independent cultural infrastructure. This year it the Festival takes place from 20 to 29 July 2007 in seven theatres in New Delhi.
Screenings are complemented by panel discussions, seminars, an Auction of Popular Culture and Film Memorabilia along with a number of exhibitions, the Talent Campus for budding young filmmakers from South Asia, and the presence and participation of film professionals from all over the world and all over India.
China has eleven films in competition and the Best Film Award went to 'Desert Dream' by Zhang Lu for the conviction with which the director depicts contemporary crisis of our time.
'The Case' was chosen to enter the Festival's new competition First Films from Asia. As a sign of merit the Osians Cinfan officially invites Yunnan New Film Project to exhibit all ten films in India for all Indian audiences' enjoyment.