Chinese premier proposes five initiatives to advance cooperation
BUDAPEST - Chinese Premier Li Keqiang on Monday proposed five initiatives to further advance 16+1 cooperation while addressing the sixth meeting of heads of government of China and 16 Central and Eastern European countries in Budapest, Hungary.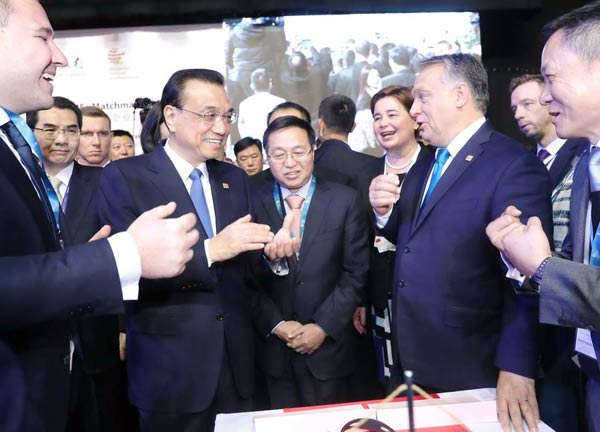 Chinese Premier Li Keqiang attends the sixth meeting of heads of government of China and 16 Central and Eastern European countries in Budapest, Hungary, November 27, 2017.[Photo/Xinhua]
Li said the key to the fast development of the 16+1 cooperation is to apply the principle of equality and consultation, mutual benefit, openness and inclusiveness, and innovation.
The 16+1 cooperation is not a geopolitical tool, but an incubator for pragmatic trans-regional cooperation, said Li, adding that the cooperation is conducive to the balanced development of China-EU relations.
He proposed five initiatives to further promote cooperation between China and the Central and Eastern European countries (CEEC).
First, he called on the two sides to expand economic and trade scale, and boost trade and investment liberalization and facilitation.
China is willing to import more high-quality agricultural products from the CEE countries to promote the balanced development of bilateral trade as well as meet the diversified demands of China's domestic market, Li said.
Second, he encouraged the countries to speed up major projects on connectivity, promoting links through land, sea, air and the Internet.
China hopes to see more rail lines be launched by China Railway Express and more direct flights between China and Europe and would like to set up a logistic center in the CEE region, Li said.
Third, the premier suggested that the two sides probe into cooperation modes such as industrial parks in the areas of production capacity, energy, logistics and agriculture.
China proposes implementing a 16+1 scientific partner plan and welcomes all CEE enterprises to participate in the "Made in China 2025" strategy, a blueprint for upgrading the country's manufacturing sector, said the premier.
Fourth, Li called for strong financial support for the 16+1 cooperation. He announced the establishment of China-CEEC Inter-Bank Association and the second phase of China-CEEC Investment Cooperation Fund in a keynote speech to the seventh China-CEEC Economic and Trade Forum held earlier on Monday.
Fifth, he called on the countries to conduct more cultural and people-to-people exchanges, enhance cooperation on tourism, and start cooperation between youths, in areas of traditional Chinese medicine, sports and protection of women and children.8 He proposed making 2018 the year of China-CEEC local cooperation.
This year marks the fifth anniversary of the launching of 16+1 cooperation. Li said in his speech that the 16+1 cooperation has been growing in the past five years, becoming an influential trans-regional mechanism with substantial projects and cooperation results.
Chinese investment in CEEC is over 9 billion U.S. dollars, up from 3 billion in 2012, while CEEC invested 1.4 billion dollars in China. In the first three quarters this year, their trade exceeded 49 billion dollars, marking an increase of 14.5 percent year-on-year. China's imports of agricultural products from CEEC have seen an annual increase of 13.7 percent.
Stressing that the 16+1 cooperation does not mean to add up the 16 bilateral ties simply, Li said he believed that with the joint efforts of the 17 countries, the 16+1 cooperation will yield more results and reach a new level.
Leaders of the 16 CEE countries spoke highly of Li's initiatives, saying that the fruitful results of cooperation in the past five years is a testimony to the willingness of all countries to strengthen cooperation and the growing importance of the mechanism.
They vowed to make full use of the platform to promote 16+1 cooperation, implement their consensus on cooperation, explore new potentials, strengthen practical cooperation in such fields as connectivity, finance, e-commerce, agriculture, logistics, small and medium-sized enterprises, tourism and culture, and push forward their relations with China as well as EU-China ties in order to achieve win-win results.
After the meeting, the leaders witnessed the signing of a batch of cooperation documents on the Belt and Road Initiative, connectivity, industrial capacity cooperation, infrastructure, finance, quality inspection and culture.
When meeting the press with Hungarian Prime Minister Viktor Orban and Bulgarian Prime Minister Boyko Borisov, Li said the cooperation between China and CEE countries has always been open and inclusive, adding that "this is especially important under the current circumstances."
"Our cooperation does not target a third party or exclude a third party,"said Li. "We welcome the participation of other countries so as to make the globalization more balanced and let more people enjoy the dividends of development."
Calling China's rapid economic development a huge opportunity for CEE countries, Orban said the China-CEEC cooperation is a success with great potential and broad prospects.
Bulgaria will host the next 16+1 leader's meeting in 2018. Borisov told the press conference that EU's initiatives and those of China's, including the Belt and Road initiative, are complementary, not contradictory.
He thanked China for not only being committed to opening its domestic markets but also proposing projects that help other countries to develop.
The EU, Austria, Switzerland, Greece, Belarus and the European Bank for Reconstruction and Development (EBRD) attended the meeting as observers.
Li arrived in Budapest on Sunday for an official visit to Hungary and for the sixth meeting of heads of government of China-CEE countries. He will depart for Russia to attend the 16th meeting of the Council of Heads of Government (Prime Ministers) of the Shanghai Cooperation Organization in the Russian city of Sochi from Nov. 30 to Dec. 1.