Crunch time for British PM as Brexit talks enter decisive phase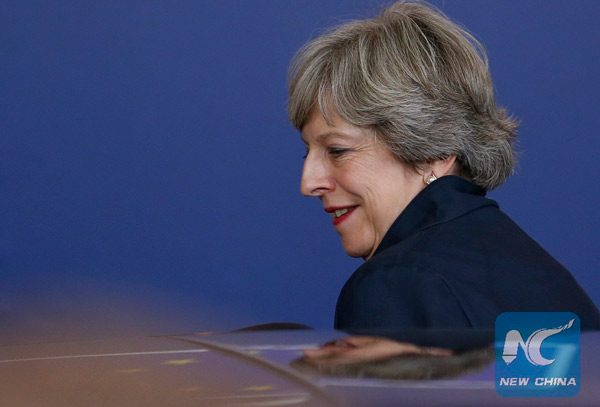 British Prime Minister Theresa May leaves the EU headquarters after the first day of the two-day EU summit in Brussels, Belgium, early Oct 20, 2017. [Photo/Xinhua]
LONDON - This month has been described by British media as "make or break" for Theresa May, the embattled British prime minister under pressure due to stalled Brexit talks and intra-party challenges.
On Friday, May is scheduled to hold private talks with Donald Tusk, president of the European Council, as the duo attend the European Social Summit in Sweden on the future of Europe's welfare systems.
Political commentators in London say it will give May a chance to air her views on Brexit with Tusk ahead of the key European Council meeting in December, which many believe will shape the Brexit deal.
The meeting in Sweden comes towards the end of what has been one of May's most turbulent months in the Brexit roller-coaster ride.
Just weeks ago, the headlines were of a leader facing the prospect of a challenge from around 40 MPs from her own Conservative Party.
EU negotiators called for Britain to state details of its divorce bill before any future relationship could be discussed.
Among the more than 300 Conservative MPs, there are constant squabbles between remainers and leavers, while among the leavers there are squabbles among those who want to pay for a get-out-of-EU card, while others don't want Britain to hand over a single British pound to the EU.
In addition, issues such as the Brexit bill, Northern Ireland border and the role of the European Court of Justice still need to be signed off.
Keir Starmer, Labour's top Brexit shadow secretary, has accused May of resorting to a desperate gimmick when she stipulated this month the precise moment Britain and the European Union will part company, 11 p.m. local time on March 29, 2019.
Starmer said it was more about Conservative party management rather than the national interest.
Critics of May also waited patiently to see the outcome of Chancellor of the Exchequer Philip Hammond's spending budget which was made public on Wednesday.
National newspaper political commentators were filled with columns about the so-called rift between May and Hammond. Hammond's budget was not the disaster some had feared, providing an unexpected boost to May's longevity as the occupant of Number 10.
Some commentators say May's decision to call a snap general election in June may go down in history as one of the biggest blunders ever by a British prime minister.
Going into the election with a thin majority, she emerged heading a minority government, with support from the Northern Ireland-based Democratic Unionist Party (DUP) to prop up her numbers.
Weakened, but not defeated, May has soldiered on, heading into the next big hurdle, the start of the journey of the Brexit bill through the Houses of Parliament.
Politicians, scrutinizing the crucial piece of legislation line by line, tabled over 400 amendments. Now into its second week of debates, May has survived the challenges so far made, but there are tough times ahead with reports some of her own MPs will rebel and vote against her.
Other say May's staying power has been cemented by fear that ditching her would pave the way for a general election and a Labour government.
Labour leader Jeremy Corbyn, continues to ride on the crest of a wave as a hero of young voters, with a strong chance of moving into Downing Street in any early election.
Seasoned political experts see May continuing as leader for the foreseeable future, even leading the March 2019 celebrations when Britain leaves the EU.
Political expert Prof. Jon Tonge from the University of Liverpool says two things are keeping May at Downing Street. "She is committed to Brexit and there is no obvious alternative to her," Tonge told Xinhua.