China, Germany should increase youth exchanges
By Fu Jing in Hamburg, Germany ( chinadaily.com.cn )
Updated: 2016-11-25 07:56:49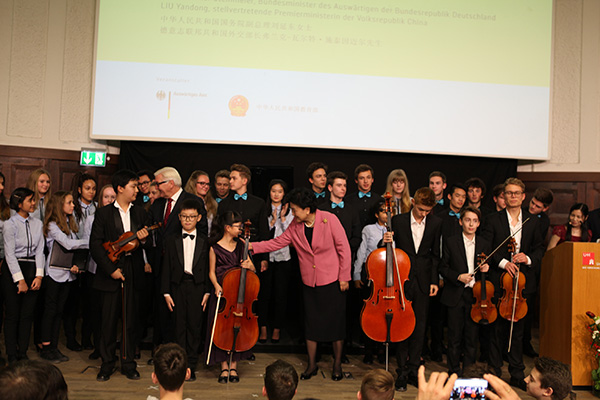 Vice-Premier Liu Yandong said on Thursday that the exchanges among the young people between China and Germany should be scaled up to further boost the bilateral relationship.[Fu Jing/chinadaily.com.cn]
Vice-Premier Liu Yandong said on Thursday that the exchanges among the young people between China and Germany should be scaled up to further boost mutual understanding.
"In my capacity, I am very keen on further boosting youth exchanges between China and Germany because the benefits far go beyond bilateral relationship," addressed Liu.
"This mutual understanding is beneficial to the world."
Visiting Germany until Saturday, Liu was speaking at the closing ceremony marking the year of China-Germany youth exchange, a dominating theme of bilateral relations, at the Hamburg University.
Liu was joined by German Foreign Minister Frank-Walter Steinmeier and 600 students from Germany and China, who sang songs and played music instruments after Liu's and Steinmeier's address.
Liu said better understanding the cultures and language of another country will play an influential role in the whole life of young people. "Such exchanges are essential for us to better understand each other and bring us closer."
Steinmeier echoed on Liu's proposal and encouraged the young people of both countries to become envoys of China-Germany friendship.
The one-year theme activity has focused on exchanges in languages, culture, music, science and joint design among the students from Germany and China boost mutual understanding.
On Thursday, Liu visited the Hamburg-based German Electron Synchrotron (DESY) and the European x-ray free electron laser (European XFEL), a research laser facility which is scheduled to start operation in 2017.
Liu also met with European Commission Vice-President Jyrki Kataine on Thursday before they addressed the closing of the two-day Hamburg Summit: China meets Europe.
Liu is scheduled to meet German Chancellor Angela Merkel on Friday and she is also attending a seminar on boosting soccer cooperation between China and Germany on Saturday before wrapping up her three-day visit.

We will not give up search, Li vows
International hunt for missing airliner continues after fruitless six-day search