Sino-French seminar: Local market savvy and joint R&D crucial
By Zhang Zhao ( China Daily )
Updated: 2013-12-11 07:07:14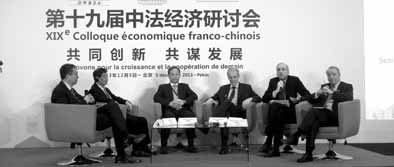 Chinese and French entrepreneurs share views at the seminar. Zhang Zhao / China Daily
Against the backdrop of globalization, innovative companies must combine global competence in R&D with an understanding of local markets, said officials and entrepreneurs from France and China at the 19th French-Chinese Economic Seminar held last week.
Companies with deep experience in the Chinese market are at the forefront of the Sino-French relationship as it develops in a more comprehensive and strategic way, said former French Prime Minister Jean-Pierre Raffarin in a keynote speech to the seminar.
Jean-Marc de Royere, senior vice-president at Air Liquide Group, said his company innovates by first studying market demands and then doing many experiments to make inventions.
"Innovation is very important in this industrialized era and our clients are the most important partners," he said. "The companies have to go globalized so that they can share good ideas on a worldwide scale."
"Innovations do not have to be big leaps forward," he said. "We cannot invent new products every day, but we can continuously upgrade our products by sensitive market awareness."
He added that as commercial organizations, companies must seek profit during the process of innovation, which requires optimized allocation of resources.
Even smaller companies also can be innovators, said Michel Crochon, director general for strategy at Schneider Electric.
"Innovation does not come up by itself, so we need a mechanism that encourages innovation," he said. "An innovative company should not only have innovation awareness and technologies, but also prove by tests that their innovations are practical."
For a transnational company, innovation must cater to characteristics of different countries and consumers, said Thierry de La Tour d'Artaise, chairman and CEO of SEB Group.
"We observe consumer lifestyles," he said.
Vincent Tai, CEO of Zhejiang Supor Co, agreed, noting that his company has introduced a number of French patents to develop new products in China.
One example is the "thermo-spot wok", a wok with a spot at its center that turns red when the temperature reaches an optimal level that generates the least burned carbon.
The technology was first used on Western-style frying pans. When it was modified a little bit and transplanted to the common Chinese wok, it solved the problems housewives faced in controlling the cooking temperature, said Tai.
On the other hand, there are many Chinese proprietary technologies that are mature enough to export to the international market, he said.
Based on the electric pressure cooker popular in Chinese kitchens, Supor developed a multifunctional cooker by adding some functions to cook Western food, and received a welcome response from European consumers, said Tai.
He said successful innovation includes integration of resources to improve efficiency and joint efforts in R&D by many sides with mutual trust.
"With the Chinese innovative speed, we will capture global opportunities," he said.
"Innovation is technology combined with romance, and ideas merged with real life," said Zhao Changwen, director general of the Enterprise Research Institute at the Development Research Center of the State Council. "It should not only follow the market, but lead the market."
He said that the government should provide policies to guide and encourage innovation and create an open market with a fair-play environment to protect intellectual property rights and guarantee the legal profits of innovators.
zhangzhao@chinadaily.com.cn

China taken on as building partner
Meetings with central and Eastern European heads underline China's global roal.