Wuliangye in elite circles, boosts international profile
By Zhuan Ti ( China Daily )
Updated: 2013-12-10 07:34:49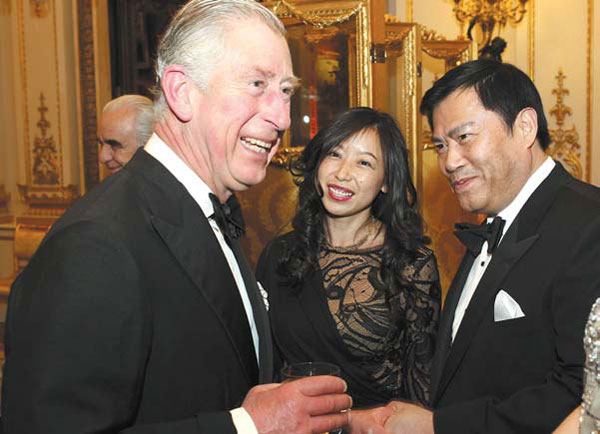 Liu Zhongguo, CEO of Wuliangye Group Co, was invited to the 65th birthday party for Prince Charles of the UK and brought a gift of liquor made by the Sichuan-based company. Provided to China Daily
A delegation from Wuliangye Group Co met the UK's Prince Charles and helped him celebrate his 65th birthday on Nov 21 with a gift of Wuliangye liquor.
The day before, the Sichuan distiller held a liquor tasting event for the House of Lords.
"These are very meaningful and important steps in our global strategy," said CEO Liu Zhongguo.
The gift to the prince was received with appreciation by the British royal family, said company officials.
Wuliangye has raised its profile in European and American markets in recent years, Liu said.
"We want to share our best liquor from China with the rest of the world and meanwhile promote cultural communication between the East and West," he said.
More than 50 politicians and business leaders from England and Ireland attended the event in London including Irish parliamentarian John Laird and Michelle Bloomfield, business development director at Invest Northern Ireland.
Wuliangye representatives gave presentations and showed documentary films about the distiller's history to the audience during the event.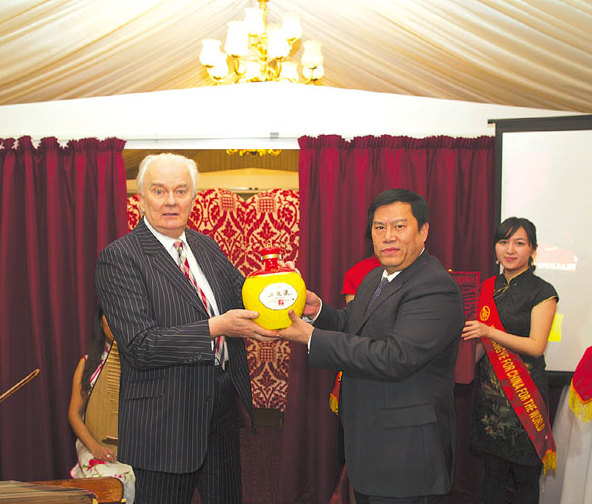 Irish parliamentarian John Laird accepts a jug of Wuliangye from Liu at a liquor tasting event for the House of Lords.

China taken on as building partner
Meetings with central and Eastern European heads underline China's global roal.