Xi's Kazakhstan trip cements broader B&R, SCO cooperation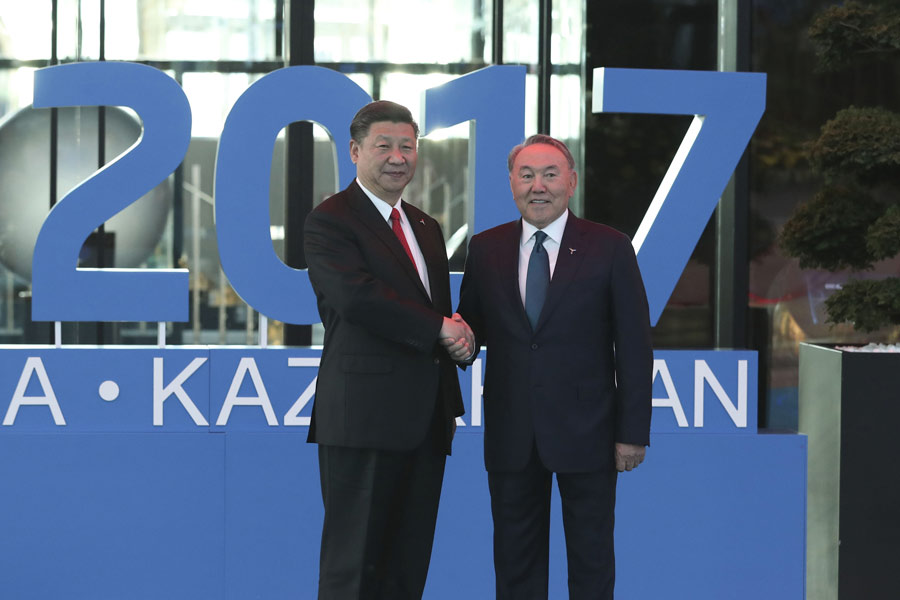 President Xi Jinping (L) is welcomed by his Kazakh counterpart Nursultan Nazarbayev when attending the opening ceremony of the Expo 2017 in Astana, Kazakhstan, June 9, 2017. [Photo/Xinhua]
ASTANA - Chinese President Xi Jinping's ongoing visit to Kazakhstan has won growing support for the Belt and Road Initiative and a historic enlargement of the Shanghai Cooperation Organization (SCO).
Xi arrived here Wednesday for a state visit to Kazakhstan, the 17th meeting of the SCO Council of Heads of State and the opening ceremony of the Expo 2017 Astana.
Speaking to reporters after the SCO annual summit on Friday, Chinese Assistant Foreign Minister Li Huilai said the fruitful results of the summit will help SCO member states to address threats and challenges, and are important for them to achieve development and revitalization.
Upgrading Belt and Road building
The Belt and Road Initiative, first proposed by Xi in 2013 in Kazakhstan, comprises the Silk Road Economic Belt and the 21st Century Maritime Silk Road, with the aim of building a trade and infrastructure network connecting Asia with Europe and Africa along the ancient trade routes.
Four years later, when Xi returned to Astana, the initiative has developed from a proposal to actions, and from a concept to practice, generating business opportunities, new jobs and hopes for countries and peoples involved.
The Chinese president and leaders attending the SCO summit have pledged to carry out extensive cooperation under the Belt and Road framework, further align their respective development strategies, pooling each other's resources and sharing economic and social benefits.
In a press communique released after the summit, leaders of the SCO countries spoke highly of the Belt and Road Forum for International Cooperation held by China in Beijing on May 14 to 15, saying that they stand ready to jointly implement the forum's consensus.
During a meeting with Spanish King Felipe VI on Friday, Xi said that China welcomes Spain's participation in the building of the Belt and Road Initiative, adding that they should make full use of the China-Europe freight train from the eastern Chinese city of Yiwu to the Spanish capital of Madrid.
China and Tajikistan are also mulling more high-end, innovative and diversified cooperation within the Belt and Road Initiative.
The expanding and evolving of the initiative "demonstrated the openness and inclusiveness China has advocated," said Wang Yiwei, Director of Institute of International Affairs at Renmin University of China.
"The Belt and Road (Initiative) essentially answers the call of the mankind for development. It is the need of most countries in the world, where supply capacity is far from enough to meet the growing need for public goods," Wang said.