President cites shared goals with Moscow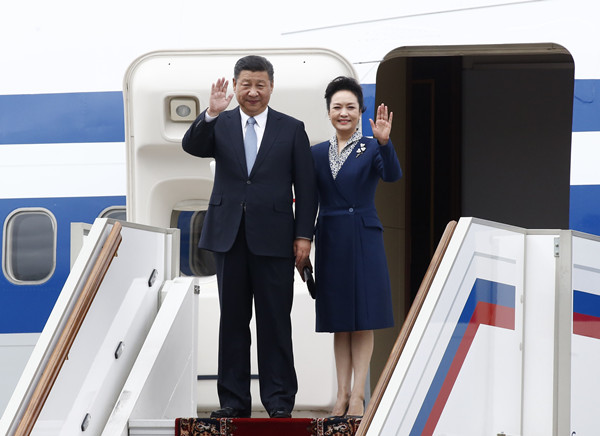 President Xi Jinping and first lady Peng Liyuan arrive at Moscow's Vnukovo International Airport on Monday. Xi embarks on a state visit to Russia. SERGEI KARPUKHIN/REUTERS
President Xi Jinping said on Monday that he is confident he can reach consensus with his Russian counterpart, Vladimir Putin, on deepening bilateral relations and pushing forward cooperation in all areas.
"I believe this trip is definitely going to yield fruitful outcomes," Xi said in a written statement upon his arrival at the Moscow airport on Monday.
Xi is paying a two-day state visit to Russia at Putin's invitation. Apart from the talks with the Russian president, Xi will also attend people-to-people exchange programs jointly hosted by the two countries and meet with people from all walks of life.
On Tuesday, Xi will fly to Berlin for a state visit to Germany and then to Hamburg to attend the G20 Summit.
In an interview with Russian media before his departure on Monday, Xi said that China and Russia hold similar views on the essence and damage of the US deployment of the Terminal High Altitude Area Defense anti-missile system in the Republic of Korea and will take necessary measures, jointly or individually.
He said China and Russia have been in close communication and are coordinating at various levels on the issue.
The deployment gravely harms the strategic security interests of China, Russia and other countries in the region, Xi said.
China and Russia will take necessary measures, jointly or individually, to safeguard their national security interests and the regional strategic balance, he said.
On the Korean Peninsula issue, Xi said China is committed to denuclearizing the peninsula, safeguarding its peace and stability and settling disagreements through dialogue and consultation.
China, he added, hopes that other parties with an interest in the Korean Peninsula will join the push by China and Russia for talks, take up their respective responsibilities and place the issue on the right track of dialogue and consultation toward a negotiated settlement as soon as possible.
China and Russia have maintained close strategic coordination on global and regional affairs, serving as a sort of ballast in safeguarding global and regional peace, security and stability, Xi added.