Xi's state visit to Germany underlines partnership
President Xi Jinping's state visit to Germany highlights the importance Beijing attaches to its partnership with the most powerful European country and developing Sino-EU relations, according to a senior Chinese diplomat.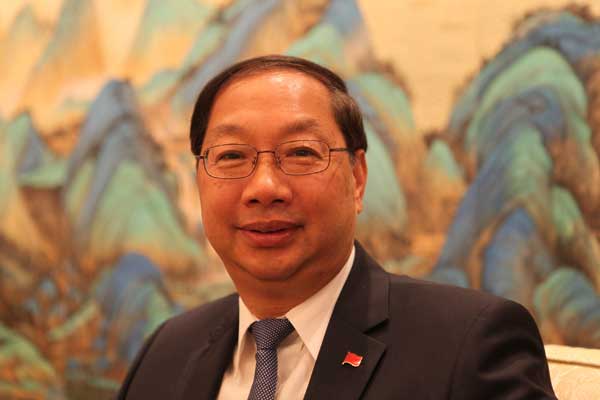 Shi Mingde, Chinese ambassador to Germany 
"Chinese president and premier visiting Germany (in the same year) once again is a rarely-seen diplomatic move in Sino-German relations and even in China's history of foreign relations, it is extremely rare," said Shi Mingde, Chinese ambassador to Germany.
"So this has gained mounting attention from the world." Premier Li Keqiang paid an official visit to Germany from May 31 to June 1.
Shi said Xi's visit will be winning a "special hospitality and arrangement" from German Chancellor Angela Merkel, who has visited China more than ten times during her chancellery.
Xi will also go to Hamburg to join US President Donald Trump, French President Emmanuel Macron, UK Prime Minister Theresa May and other leaders at the G20 summit, which Merkel will be chairing.
Prior to Xi's leg in Germany, he paid a visit to Russia. The previous G20 summit was held in Hangzhou last year with Xi in the chair.
Xi paid his first state visit to Germany in early 2014 and during that year, Premier Li also visited Germany, holding the annual high-level consultation meeting with German government.
Shi regarded Germany as "core power" in Europe with the most powerful comprehensive strength and at the global stage, it has exerted great influence.
"China and Germany have shared growing common grounds in developing bilateral relations, solving regional and global difficulties and exploring development opportunities," said Shi.
Such overlapping consensuses at various fronts have helped Germany become China's biggest trading partner in Europe for 42 consecutive years, according to Shi. Last year, replacing United States, China became Germany's largest trading partner and the trade flow between China and Germany has already accounted for one third of the total between China and the 28 countries within EU, Shi said by citing German government data.
"Germany has shown great confidence in China's market potential and economic prospect; China has attached importance to Germany's high-tech industry and management experiences," said Shi.
Shi added that for years, Germany is also the most generous country in Europe regarding to technology transfer to China.
Xi's visit will mark the 45th anniversary of establishment of Sino-German diplomatic relations, which Shi has highly praised.
"Our relationship has seen the best time ever in history and this bilateral tie has become the driving force of Sino-EU partnership," said Shi.
Shi said during his visit, Xi will outline the development blueprint of bilateral relationship with German leaders. "I believe new impetus will be injected into the sound relations during Xi's visit," said Shi.
Shi has revealed that the President will inaugurate the Panda Garden in Berlin Zoo and attend a Sino-German youth soccer match.
Shi also said that Xi will be discussing deeper cooperation within the Belt and Road Initiative framework, which will be one of the most important topics on the leaders' agenda.
Shi said Germany has already realized that the initiative is an important global move and its attitude toward the initiative has undergone "huge change" in previous three years.
Shi said Germany is one of the Western countries that have shown timely support of China's proposal and it is the fourth-largest stakeholder after China, India and Russia, as well as the biggest non-regional shareholder of Beijing-based Asian Infrastructure Investment Bank.
"Many cases occurring in previous years have shown that China and Germany can cooperate with each other to explore even more market potentials in Asia, Africa and other part of the world by participating in the Belt and Road Initiative," said Shi.
fujing@chinadaily.com.cn