UK monarchy 'worth 67.5 billion pounds'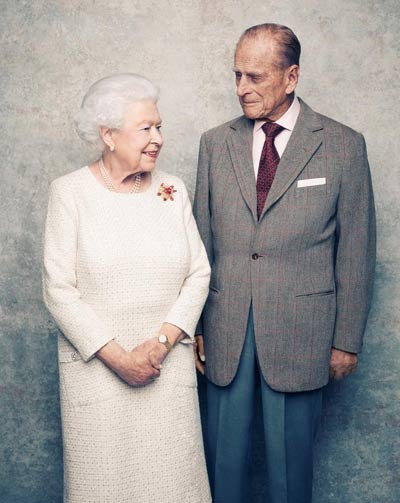 A handout photo shows Britain's Queen Elizabeth and Prince Philip in the White Drawing Room at Windsor Castle in early November, pictured against a platinum-textured backdrop, in celebration of their platinum wedding anniversary on November 20, 2017.[Photo/Xinhua]
The value of the British Monarchy is estimated at approximately 67.5 billion pounds ($89.5 billion), according to a new report.
As the Queen and Duke of Edinburgh celebrate their Platinum Wedding Anniversary, a London-based brand consultancy Brand Finance said that the Monarchy's tangible assets - the Crown Estate, the Duchies of Lancaster and Cornwall, and the Royal Collection, including the Crown Jewels - account for 25.5 billion pounds.
But according to Brand Finance, the intangible value, understood as the present value of the benefits that the Monarchy is expected to bring to the UK economy over the years, constitutes the remaining 42 billion pounds.
David Haigh, CEO of Brand Finance, said the Queen's universal appeal translates to the attraction of the brand monarchy and offers considerable commercial benefits to all businesses and institutions associated with it.
"The Monarchy is Britain's national treasure, both symbolically and economically. Especially in the age of Brexit, Britain can rely on royal diplomacy to facilitate trade relations with the Commonwealth and the rest of the world," he said.
Brand Finance estimates that in 2017 the Monarchy generated 1.77 billion pounds to the UK economy. The contribution includes the Crown Estate's surplus as well as the Monarchy's indirect effect on various industries.
The total costs of the Monarchy, totalling approximately 292 million pounds, include the Sovereign Grant, earnings from the Duchies of Lancaster and Cornwall ceded to the Queen and the Prince of Wales, and security expenses, among others.
The economic benefits generated by the Monarchy come at a very low cost to the British nation, equal to only 4.50 pounds per person per year or just more than 1p a day.
A significant proportion of these costs is incurred by residence maintenance, staff salaries, and travel expenditures required by any head of state.