From Bali to Da Nang, Xi expands China's footprints in Asia-Pacific development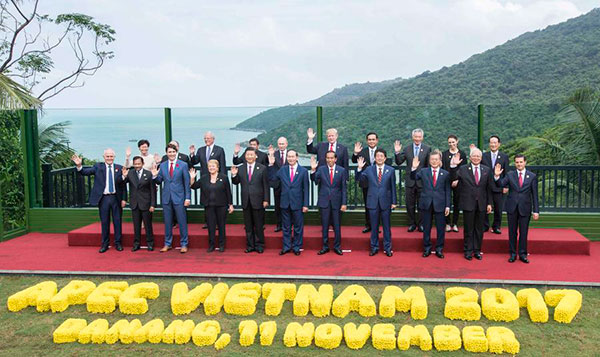 President Xi Jinping, 5th left, front, poses for a group photo with other leaders and representatives from the Asia-Pacific Economic Cooperation (APEC) member economies at the 25th APEC Economic Leaders' Meeting in Da Nang, Vietnam, Nov 11, 2017. [Photo/Xinhua]
Related: President Xi's footsteps and remarks at previous APEC meetings
Offering Chinese wisdom
"Over the past four years, China's economy has grown by 7.2 percent on average annually, contributing over 30 percent of global growth. China is now a main driver powering global growth," Xi quoted convincing figures in his Da Nang speech to demonstrate China's contribution.
"China will not slow its steps in opening up itself," the president embraced economic openness when addressing the APEC business leaders.
"We will work together with other countries to create new drivers of common development through the launching of the Belt and Road Initiative," he said, referring to China's effort to enhance connectivity.
Four years earlier, Xi embarked on his first APEC trip to Bali in Indonesia. He told the world that he was fully confident about China's economy.
"I am confidant because the quality and efficiency of China's economic development are improving steadily," the president said.
Moving from over-reliance on investment and export to dependence on domestic demand, China, instead of taking GDP growth as the sole criterion for success, is now focusing more on improving the quality and efficiency of growth, he elaborated.
When world business leaders gathered in Beijing in 2014, Xi interpreted the "new normal" of China's economy which had emerged with several notable features.
China's economic growth has slowed down from the previous high speed to a medium-to-high speed, and the economy is increasingly driven by innovation instead of input and investment, Xi said at that time.
"The Chinese economy is undergoing profound structural changes and (is) improving in quality and structure," he said at that time, adding that the new normal will bring new development opportunities to China.
The Asia-Pacific region faces changing challenges, but what remains unchanged is the Chinese leader's commitment to addressing them with his partners in the group to achieve common development.
"China's stance is incredibly important at this particular time," Peter Drysdale, head of the East Asian Bureau of Economic Research of Australian National University, told Xinhua.