From Bali to Da Nang, Xi expands China's footprints in Asia-Pacific development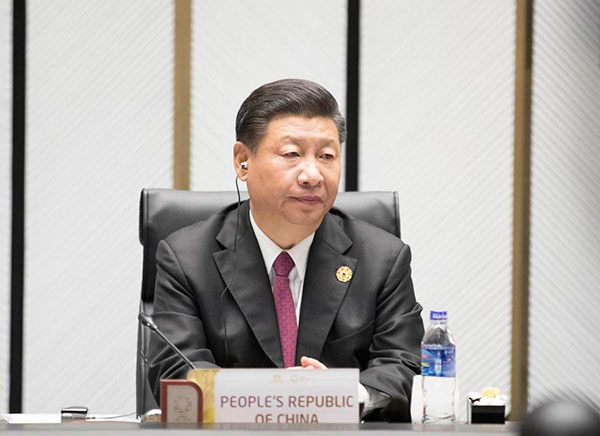 President Xi Jinping attends the 25th Asia-Pacific Economic Cooperation (APEC) Economic Leaders' Meeting in Da Nang, Vietnam, Nov 11, 2017. [Photo/Xinhua]
Related: President Xi's footsteps and remarks at previous APEC meetings
Envisioning Asia-Pacific future
To steer economic globalization or to dither in the face of challenges? To jointly advance regional cooperation or to go separate ways? Xi raised such questions to the CEOs from 21 countries at this year's APEC meeting.
He gave his own answer to the questions, saying: "We must advance with the trend of times, live up to our responsibility and work together to deliver a bright future of development and prosperity for the Asia-Pacific."
Speaking of what the Asia-Pacific's future should look like at the 2013 CEO conference in Bali, Indonesia, Xi said efforts should be made to build a region that seeks common development, calling on the Asia-Pacific economies to stay committed to open development, promote innovation-driven development, and pursue interconnected growth.
The Chinese leader said all members should maintain a multilateral trading system that is free, open and non-discriminatory, and oppose all forms of protectionism.
Hailed as "a strategic initiative critical for the long-term prosperity of the Asia-Pacific" by Xi in his keynote speech at the APEC CEO Summit in Lima, Peru, last year, the Free Trade Area of the Asia-Pacific (FTAAP) has been gaining steam especially after a collective study on the trade bloc was approved at Lima summit, the first substantial step toward its eventual realization.
"We need to stick to our agenda and take more effective actions to realize the FTAAP at an early date, thus bringing about an Asia-Pacific economy with greater openness," Xi stressed again at the Da Nang summit, which wrapped up on Saturday.