Iran scrambles to aid quake victims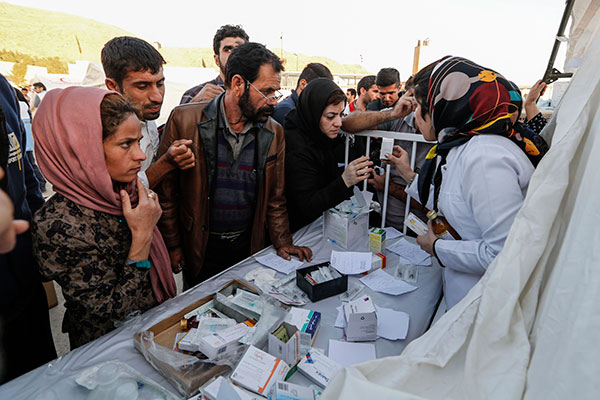 Quake victims and survivors arrive to receive medical supplies at a field hospital in the town of Sarpol-e-Zahab, Iran, on Tuesday. ATTA KENARE/AGENCE FRANCE-PRESSE
SARPOL-E-ZAHAB, Iran - Thousands of Iranians on Tuesday spent a third night in the cold as authorities scrambled to help those made homeless by a major earthquake that killed more than 530 people.
As the country marked a day of mourning, President Hassan Rouhani promised swift help following the magnitude 7.3 quake that struck a mountainous region spanning the Iran-Iraq border on Sunday.
Volunteers also rushed to help after thousands of homes were destroyed in the quake which rocked a region extending across Iran's western province of Kermanshah.
The preliminary estimated loss stood around $450 million, Tasnim news agency reported on Tuesday.
About 11,000 residential buildings in the rural areas plus 5,000 residential buildings in urban areas have been ruined, said Mojtaba Nik-Kerdar, construction deputy of Kermanshah province governor office.
During his visit to the quake-stricken areas on Tuesday, Rouhani pledged to allocate sizable fund for the reconstruction of the buildings.
"I want to assure those who are suffering that the government has begun to act with all means at its disposal and is scrambling to resolve this problem as quickly as possible," the president said.
On Tuesday afternoon, residents of Sarpol-e-Zahab helped police evacuate an elderly man, his face caked in blood, from a home at risk of imminent collapse.
Several buildings and houses lay in complete ruins, while others stood disfigured. Some structures appeared unscathed.
Rescue workers with sniffer dogs combed the ruins for survivors after at least 280 people were killed in the town of some 85,000 people.
The town center was clogged with traffic as people from the surrounding province rushed to help with rescue efforts.
Tents, some provided by the Red Crescent, dotted green spaces turned into camps for the displaced.
But some did not have shelter in a region where temperatures dropped to 4 C on Tuesday night.
Health Minister Hossein Ghazizadeh Hashemi was cited on Tuesday by the Tasnim news agency as recognizing that aid "distribution was not assured properly" and needed to be improved.
On Tuesday, Iran marked a day of mourning, with a black banner adorning the corner of images of the disaster broadcast by state television.
Afp - Xinhua - Ap