Women in Saudi Arabia cheer news they will be allowed into sport stadiums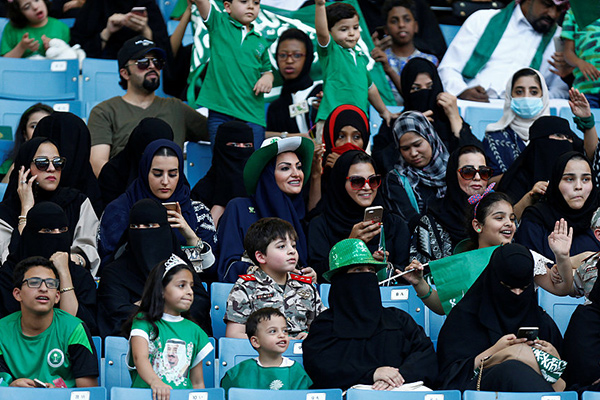 Saudi Arabia women attend a rally to celebrate the 87th annual National Day of Saudi Arabia in Riyadh, Saudi Arabia September 23, 2017. [Photo/VCG]
BEIRUT - Women in Saudi Arabia on Monday welcomed the announcement that from next year they will be allowed to watch sporting events in previously all-male stadiums for the first time.
The move is the latest in a series of reforms in the deeply conservative Sunni Muslim kingdom that last month granted women the right to drive.
A statement from the General Sports Authority, carried by the state-run Saudi Press Agency late on Sunday said three stadiums in the major cities of Jeddah, Dammam and Riyadh were being prepared to accommodate families in early 2018.
"It means something for me. It is not only because of watching sports - we have gained some of our rights now," said Sarah Alhelal, a fitness instructor in the city of Khobar.
The 29-year-old said she was a "big time", sports fan and thrilled at the chance to watch some of her favorite teams live- something she believes will encourage more young women to get involved in sports.
"It is pushing other girls to do what I couldn't do," she told the Thomson Reuters Foundation by phone.
The announcement comes amid a series of changes for women in Saudi hailed as a new progressive trend, including the right to drive and more opportunities in the workplace.
This month US-raised Princess Reema bint Bandar became the first female president of the Saudi Federation for Community Sports that manages sports-related activities for both men and women.
But a guardianship system, under which a male family member must grant permission for a woman to study abroad, travel and other activities, remains in place.
Susan Turner, chief executive of NuYu, the kingdom's first chain of female fitness centers, said the move to allow women into traditionally male bastions was a "huge statement", that challenged stereotypes.
"Women are just as passionate about sports and football as men," she said.
Women were allowed to enter the King Fahd International Stadium in Riyadh for the first time in September when the country was celebrating the 87th anniversary of its foundation.
Reuters