The real story behind Halloween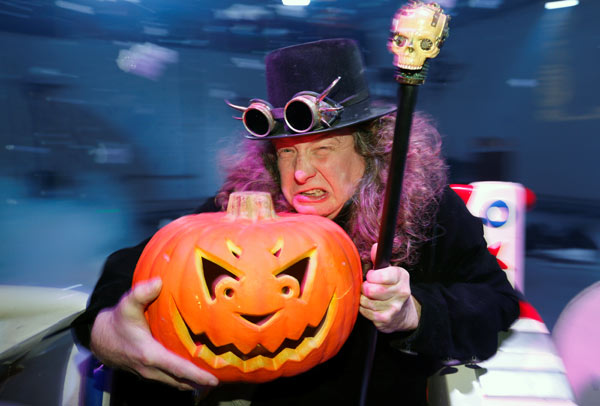 Belgian artist Michel Dircken holds a model of a carved Halloween pumpkin as he poses on an electric train at the Centre of Fantastic Art in Brussels, Belgium October 28, 2017. [Photo/Agencies]
Many people do not know the real reason why so many of us wear spooky outfits or other fancy dress costumes, carve pumpkins, and play trick-or-treat games every year on Oct 31.
They are engaging in a tradition that may go back thousands of years.
Halloween in recent centuries has been All Hallows Evening, or All Saints Eve, a Christian festival that celebrates the dead, particularly deceased saints and other important people.
But the practices of dressing up as the dead and carving lanterns do not seem particularly Christian and one theory suggests those parts of the celebration may have their origins in the Celtic festival of Samhain, which means "Summer's End". It was also a festival of the dead and it took place when it was believed the wall between our world and the spirit world was thin enough for spirits to be able to pass through it and roam the earth. People believed the best way to trick and ward off evil spirits was to dress up just like them.
Since the 16th century, British and Irish people have dressed up as the souls of the dead and gone door-to-door asking for food in exchange for a poem or song while praying for divine protection. In Ireland and Scotland the practice was known as "guising", from disguising.
The tradition became known as "Trick or Treating".
The carving of pumpkins also started out as a way to stop spirits settling in homes. Legend has it that an Irish man named Jack fooled the devil into not taking his soul when he died. On Jack's death, he was not allowed into heaven and the devil also kept his word and did not drag him into hell. The legend has it that the devil threw a burning piece of coal at Jack and he caught it and put it in a carved-out turnip.
Immigrants arriving in North America in the 19th century could not find turnips but could find pumpkins with which to make lanterns.
In the last 40 years, the original British and Irish customs have been re-shaped by the way the festival has been celebrated in the United States. Guising and turnip lanterns have been replaced by trick or treating and pumpkins.
And Halloween has become a big business, particularly in the US, where an estimated $8 billion is spent on food, costumes, and parties each year.
Zhang Yangfei contributed to this story.