50,000 protesters gather in Manchester as May's Conservatives start their conference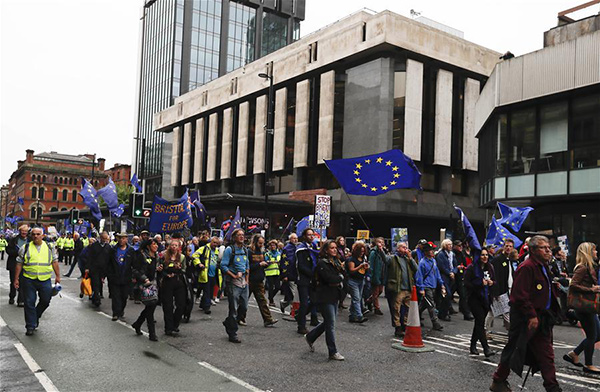 People take part in a demonstration in central Manchester, Britain, on Oct 1, 2017. [Photo/Xinhua]
With Labour saying they would scrap university tuition fees altogether, political commentators were asking whether May's carrot would win back younger voters.
May also plans to spend 10 billion British pounds (13.4 billion US dollars) helping thousands of first-time house buyers get onto the property-owning ladder.
In the interview May said she wanted to lead her party into the next general election, due in 2022, saying: "I'm not a quitter. I'm in it for the long-term and I believe there is a long-term job to do."
May's first full day in Manchester Sunday, her 61st birthday, was met with the kind of greetings she would not have welcomed.
The Sunday Observer newspaper's main story was headlined "May in battle for survival as Tories sharpen knives".
The Sunday Times said foreign secretary Boris Johnson planned one last bid for the top job at 10 Downing Street. Their headline read "Johnson believes she will be gone in a year".
The Sunday Express in a flag-waving story in support of May, welcomed her pledges to overhaul student fees with the headline "That's more like it Mrs May".