Under-explored areas of North Sea to be surveyed for oil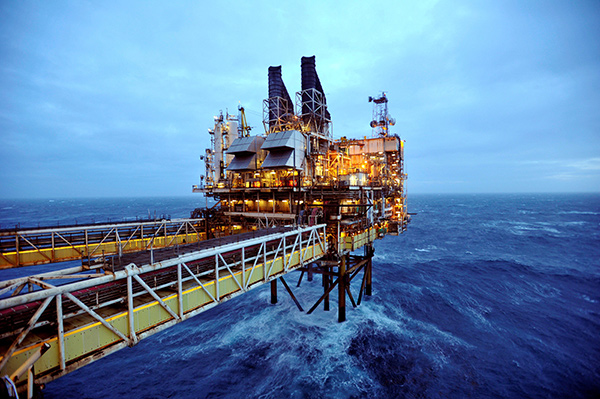 File photo shows a section of the BP Eastern Trough Area Project (ETAP) oil platform is seen in the North Sea, around 100 miles east of Aberdeen in Scotland, Britain, February 24, 2014. [Photo/Agencies]
LONDON - Up to 20 billion barrels of oil remain beneath the North Sea off the Scottish coast, Britain's energy minister Richard Harrington said Monday.
He was speaking as Chancellor of the Exchequer Philip Hammond was in Scotland's oil capital of Aberdeen to announce funding to pay for a survey to find potential new deposits of under-explored areas of the UK Continental Shelf.
Hammond visited the Oil and Gas Technology Center in Aberdeen, which is part-funded by the British government. He said the center's work with industry on new subsea technologies could help unlock 400 million additional barrels of oil and gas from the North Sea and more than 4 billion US dollars of additional value to the industry.
Chancellor Hammond said: "The oil and gas industry remains vital for the Scottish economy and the UK as a whole. The million funding I am announcing will help exploration to find potential new deposits, and boost prospects for jobs in Aberdeen and the surrounding area."
In Aberdeen, Hammond met oil and gas industry representatives to discuss how funding could help employment and the economy in the region.
The British government is backing plans to establish Aberdeen as a global leader in decommissioning, creating skilled jobs and exporting what is advanced knowledge to other countries.
Hammond also visited Dundee University life sciences complex, which has become a world leader in areas including drug discovery. It has received more than 27 million US dollars in British government funding and is now ranked highly on global ratings for its scientific excellence and impact of its research.
Energy Minister Richard Harrington said: "North Sea oil will continue to fuel growth and jobs across Scotland and the rest of the UK, with an estimated 10-20 billion barrels still remaining.
"The sector continues to have the full support of the UK government, confidence is returning, and today's announcement recognizes there are great opportunities for further exploration."