San Francisco presents 'comfort women' memorial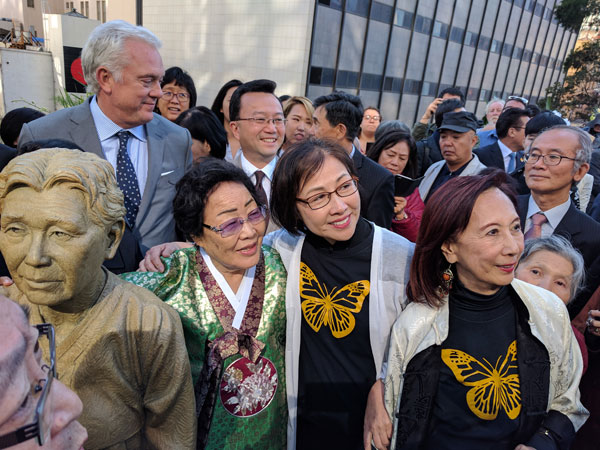 Yong-soo Lee (left), 89, a South Korean "comfort women" survivor, poses with Julie Tang (center) and Lillian Sing (right), both co-chairs of the Comfort Women Justice Coalition, at the ceremony on Friday for the San Francisco "comfort women" memorial at St Mary's Square. [Photo by LIA ZHU / chinadaily.com.cn]
San Francisco has installed a statue dedicated to the "comfort women" who were forced into prostitution by the Japanese Imperial Army during World War II.
This statue is the latest of dozens such statues worldwide but the first in a major US city. It is also the first project that involved the efforts of 13 communities, including Chinese, Korean and Filipino, activists said.
On Friday, hundreds of people attended the ceremony on St Mary's Square Annex, where the statue was raised.
The life-size bronze statue includes four figures – Hak-soon Kim, the late "comfort woman" who was the first to break the silence in 1991, as she looks at three girls in traditional Korean, Chinese, and the Filipino dress holding hands on top of a cylinder.
Locally based British sculptor Steven Whyte's work – Comfort Women's Column of Strength – was chosen from more than 20 applicants.
"It's easy to do a piece that is shocking and blatant, but we want to do something about the strength of the young girls and how they managed to carry on through the sufferings they had," said Whyte.
Among the speakers was Yong-soo Lee, 89, a "comfort women" survivor who came from South Korea for the ceremony. She told the gathering through a translator that the world needs peace and that Japan must apologize.
Japan has not apologized and has been pushing back against efforts to set up memorials honoring "comfort women".
The Japanese government interfered with a lawsuit against a "comfort women" statue in Glendale, California, saying the statue disrupted the US government's foreign policy and relationship with Japan.
The latest effort by the Japanese right wing was to "kill" the San Francisco memorial from the beginning by lobbying the San Francisco government at every level, according to the Comfort Women Justice Coalition (CWJC), a San Francisco-based rights group that spearheaded the project two years ago. The project was unanimously approved by the city's Board of Supervisors on Sept 22, 2015.
Early this year, the San Francisco Arts Commission said it had received more than 200 emails, mostly from Japan, in opposition to the statue's installation. The most prominent objection was from then mayor of Osaka, a sister city of San Francisco.
Eric Mar, who was a city supervisor at the time, proposed a resolution supporting the installation of the memorial, He said visitors can easily relate the statue to their sisters, daughters and grandmothers.
Mar said the small effort that Hak-soon Kim made in 1991 was "an incredible power to transform us and make us more human".
He said the statue also will serve as an educational object for the next generation to never forget a dark chapter of history, and he hoped the statue could serve as a "catalyst" for other cities in the US and the world.