Houston opens 2nd convention center to evacuees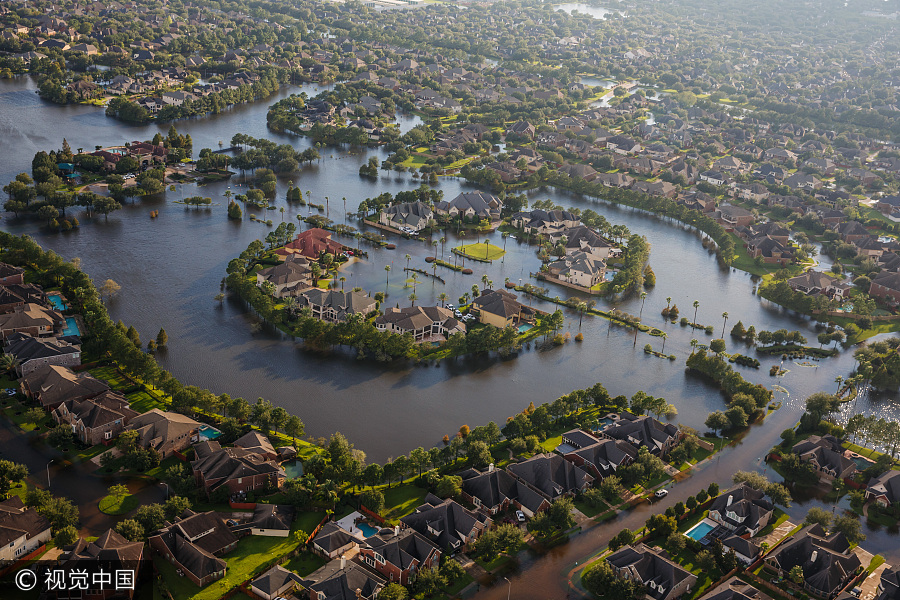 Flood water surrounds homes in a residential neighborhood in the wake of Hurricane Harvey on August 29, 2017 in Houston, Texas.[Photo/VCG]
Houston has imposed an overnight curfew beginning at midnight Tuesday for an indefinite period amid incidents of looting, armed robberies and people impersonating police officers, city officials said.
The curfew will run from midnight until 5 pm It originally was due to begin at 10 pm. but the city pushed the start back two hours to allow volunteers to continue working, Mayor Sylvester Turner said in a statement. The city is also bringing additional police from other regions.
The Latest on Tropical Storm Harvey (all times local)
9:15 pm
Houston officials are opening a major shelter at NRG Park that can accommodate up to 10,000 evacuees from Harvey.
Darian Ward, a spokeswoman for Houston Mayor Sylvester Turner, said the convention center adjacent to the city's NFL stadium and the Astrodome will open at 10 pm Tuesday.
The new shelter will provide the city with additional capacity because the number of evacuees at the George R. Brown Convention Center is approaching 10,000, double its original capacity.