'Terrorist'attacker dies after being shot by soldiers in Brussels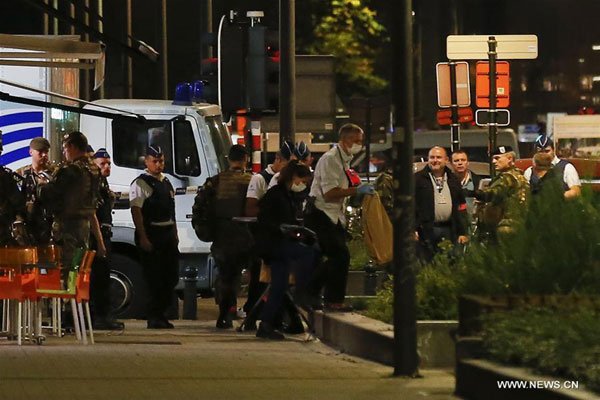 Investigators inspect the site of an attack in downtown Brussels, the capital of Belgium, on Aug 25, 2017. [Photo/Xinhua]
BRUSSELS - A man was shot, and seriously injured, by Belgian soldiers on Friday evening after trying to assault them with a machete in downtown Brussels.
He later died at hospital, according to the Federal Prosecutor's Office of Belgium, calling him "terrorist".
The incident took place at 8:20 pm local time at Emile Jacqmain Boulevard in downtown Brussels. The man attacked a patrol of two soldiers while shouting "Allah Akbar" twice. The soldiers fired back and shot him.
"We think it is a terrorist attack," the prosecutor said in a statement. The prosecutor's office opened an investigation into "attempted assassination in a terrorist context".
The neutralized man, a Somali born in 1987, is not known for terrorism, according to Brussels prosecutor's office.
"All our support to our military. Our security services remain attentive. We follow the situation closely with the crisis center of Belgium," Belgian Prime Minister Charles Michel said on Twitter.