Police confirm at least 4 suspects dead in Barcelona terror attack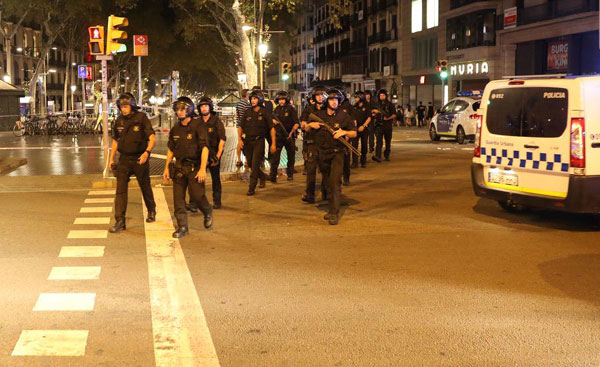 Armed Catalonian Mosses de Escuadra officers leave the area where a van crashed into pedestrians at Las Ramblas in Barcelona, Spain, August 18, 2017. [Photo/Agencies]
BARCELONA — Spanish police have confirmed that at least four terror suspects were shot and killed in a separate alleged terror attack south of Barcelona.
Police tweeted that they "have shot down the perpetrators" in response to a terrorist attack.
Spain's public broadcaster, RTVE, reported that the suspects may have been carrying suicide explosive belts.
The broadcaster said the suspects tried to carry out a similar attack to the one in Barcelona, which left 13 people dead earlier Thursday, by driving a vehicle into pedestrians. It said seven people were injured by the suspects, two seriously.
AP