Advertorial: ESCE leads Shenzhen innovative enterprises to Edinburgh for international debut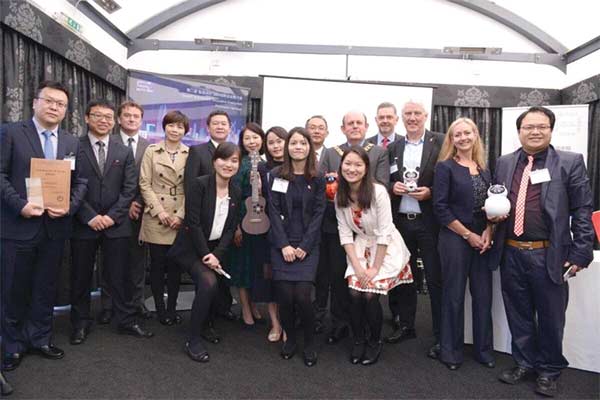 ESCE team, representatives of the winning enterprises and civic officers of Shenzhen government and the City of Edinburgh Council at the event. [Photo provided to chinadaily.com.cn]
A ceremony to kick-start the 2017 Edinburgh Fringe Shenzhen Culture Week and a seminar to promote smart Shenzhen innovative enterprises were held at The Glasshouse Hotel in Edinburgh on Aug 7.
The event was organized by the Shenzhen Municipal Bureau of Culture, Sport and Tourism and the local government of Shenzhen's Bao'an district together with the Edinburgh Shenzhen Creative Exchange (ESCE).
It was aimed at strengthening the exchange and cooperation of culture and arts, creative industry and technology industry between Shenzhen and Edinburgh.
At the event, ESCE introduced three innovative enterprises from Shenzhen and Shenzhen Creative Investment Group and the Doctorate Association signed a strategic cooperation agreement.
The three innovative enterprises - Shenzhen Shigan Culture Technology Co Ltd, Shenzhen Lubo Tech Co Ltd and Shenzhen MetaGem Co Ltd are winners of the 2017 Create in Edinburgh Competition organized by ESCE.
ESCE is led by the local authorities of Shenzhen and Edinburgh, and operated by Shenzhen Creative Investment Group. It aims to use the advantages of creative industries and technological innovation of the two cities to help SMEs of innovative industries to extend their overseas markets, to incubate small enterprises and find promising enterprises and provide investment and funding services to them.
ESCE consists of the Shenzhen Center and the Edinburgh Center. The Edinburgh Center is located at Edinburgh Creative Exchange. The Shenzhen Center is located at the Shenzhen F518 Idea Land. Innovative enterprises from both cities can apply for working space at the Exchange Center when they expand their business in each other's city.
Until now, there are 16 enterprises settled in both centers. Over the past two years, ESCE has provided services to enterprises in more than 100 cases.
ESCE also organized an exhibition - SMART Shenzhen-Innovative Products Showcase, for the three products from these three companies and 10 other innovative products from Shenzhen companies at the Ocean Terminal shopping center in Edinburgh from Aug 3 to Aug 9.
The showcase has attracted a lot of visitors since the first day. The Mayor of Edinburgh, Lord Provost Frank Ross also visited the showcase on Aug 8.
The Shenzhen Creative Investment Group and the Doctorate Association also signed a strategic cooperation agreement at the event.
SCIG was established in 2006, with the goal to serve and incubate small and medium-sized cultural and creative enterprises. After ten years of integration of cultural and creative industries, SCIG has developed into a group of entities which owns 20 subsidiaries and employs more than 2,200 people, with business covering culture and education, a cultural industry park, cultural headquarters as well as cultural investment and other related sectors, with the value of total assets standing at more than 2.5 billion yuan ($376 million).
The Doctorate Association is a non-profit organization which aims to build a series of social and academic platforms to attract more overseas students to integrate into the local community, and provide them with guidance and resources on language, life, academic study, employment and running a business.
According to the agreement, Doctorate Association will recommend talent and cutting-edge technology to SCIG; and SCIG will coordinate with cultural and technology industries in Shenzhen for the association. Both sides will work together to help each other to achieve a win-win development.
Representatives of the enterprises are scheduled to visit local outstanding enterprises, meet with entrepreneurs and top officers of Edinburgh council to explore more opportunities for international cooperation.