Shows translate on Edinburgh stage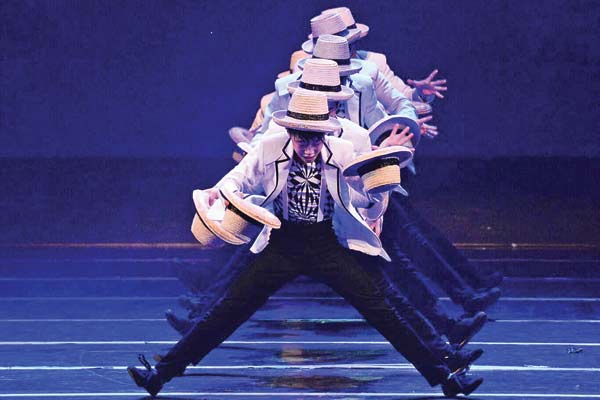 Members of the Shandong Acrobatic Troupe perform in the show China Goes Pop during the Edinburgh Festival Fringe. [Photo/China Daily]
For audience members who do not speak Chinese, it would have required a leap of faith to buy a ticket to a show in the United Kingdom advertised as "Mandarin language".
But theatergoers at the Edinburgh Festival Fringe, which is running throughout August, had to trust that this year's Chinese productions would not be lost in translation.
Richard Rusk, director of The Shanghai Dramatic Arts Center's production The Dreamer, said: "The key is-I don't have to know what you are saying but I have to know what you mean, every time."
With a predominantly Chinese cast and an entirely Mandarin script, The Dreamer has been a breakout hit during the opening weekend, gaining several four-star reviews from critics, including those at The Sunday Times.
Amy Collins, 20, an Edinburgh bartender who has seen the show, said: "There was so much passion in the physical theater. I did get lost in parts where there was a lot of Mandarin, but they picked up on universal actions for certain things that people do."
The show is made in collaboration with British physical theater company Gecko and draws inspiration from William Shakespeare's A Midsummer Night's Dream.
Rusk, an associate director at Gecko, said the actors went through intense workshops every morning for eight weeks, based around non-verbal communication."They had never really done movement work before.
They were used to standing and delivering lines to one another," Rusk said. "We ran workshops with them for two hours every morning, to move together, listen together, breathe together, and care about one another's performances."
Also at the Fringe, the National Theater of China's production of Luocha Land is firmly rooted in Chinese culture and exclusively in Mandarin, with masks and puppetry providing cues for non-speakers. Beauty and ugliness are reversed in Luocha Land, and the protagonist moves from an initial state of terror and confusion, to deep contemplation on the meaning of these concepts.
Director Zhao Miao said: "I wanted to share my impression of the part that beauty and ugliness play in Chinese philosophy with British spectators. It's the idea that ugliness is not produced by the devil, but it is something that lives inside the human heart."
China Goes Pop enjoyed a sellout weekend at the Assembly Hall, one of the Fringe's biggest venues. The act is produced by the Shandong Acrobatic Troupe and the China Arts Entertainment Group.
The show's director, the United States' Shanda Sawyer, said exploring differences between the US and Chinese styles of acrobatics were central to rehearsal.
"The traditional Chinese acrobatic style is to very much serve the show and to be totally at one with your troupe," Sawyer said. "To become individuals and share their emotions with the audience has been an interesting challenge for them and a fun experience for me."