Mobike rolls out cycles in London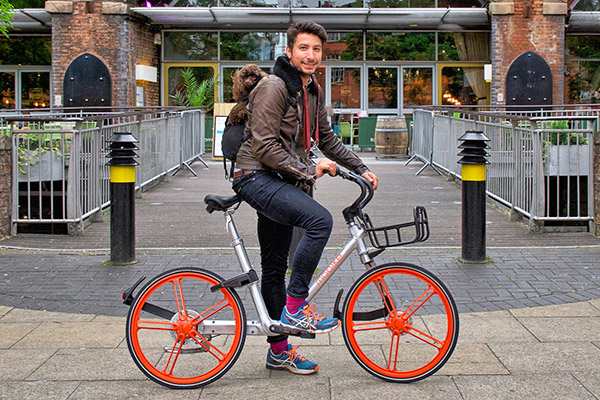 A user rides Mobike's shared bikes in Manchester. [Photo provided to China Daily]
A bike-sharing scheme that could rival London's so-called Boris bikes has been granted permission to operate in the British capital.
Ealing Borough Council has approved plans during a council cabinet meeting on Tuesday evening for Chinese company Mobike to launch a pilot project in Acton. The scheme will bring 750 bikes to the area and is set to start at the end of July.
Bassam Mahfouz, cabinet member for transport, environment and leisure, said: "We welcome Mobike's decision to start operating in Ealing. Hiring a Mobike is an easy way to give cycling a try over short distances, without committing to the expense of buying a bike, and we hope that residents will be encouraged to get out of their cars and cycle instead."
Mobike has already made its United Kingdom debut in Manchester, where a fleet of 1,000 bikes was launched in June.
Unlike former London mayor Boris Johnson's bike-share program in the capital, users do not need to return a Mobike to a specific docking station. And while the so-called Boris-bikes are partially funded by Transport for London, Mobike will be available at no cost to the taxpayer as the scheme in Acton will be run as a private enterprise by the Chinese company.
Mahfouz added: "Mobike is initially starting on a small scale in Acton before expanding to the rest of the borough. We will be watching the roll out with close interest and encouraging local people to do their bit for local air quality and congestion by giving them a go."
The specially designed bikes are equipped with GPS and proprietary smart-lock technology, which allows users to find a nearby bike and scan its QR code to unlock it. The rider can then park the bike in any location and lock it.
According to an Ealing council report, cyclists will have to pay 50 pounds ($64) deposit to join the scheme and will be charged 50 pence for 30 minutes.
Bike-sharing schemes have taken off in recent months and Mobike isn't the only company wanting a share of the London market.
Singaporean start-up Obike has preempted its rival by rolling out its 400 Obikes in East London's Tower Hamlets borough.
The Mayor of London's office said, although it can't confirm which other London boroughs are in talks with bike-sharing companies, Transport for London will work with the boroughs to ensure that any such schemes work for Londoners.
Mobike, which handles 25 million rides a day in China, also looks to be preparing to put riders on its bikes in Washington, based on its hiring plans in the area.
One of the jobs Mobike has posted on professional networking site LinkedIn is for an operations manager, based in Washington, who would need to get to know"the local environment" and"be the main point of contact for the regional government officials and transport authorities", according to The Wall Street Journal.
In Washington, Mobike would face competition from Capital Bike-share, a local company that operates more than 3,700 bikes at 440 stations across five jurisdictions around metropolitan Washington.