Chinese fever grips US students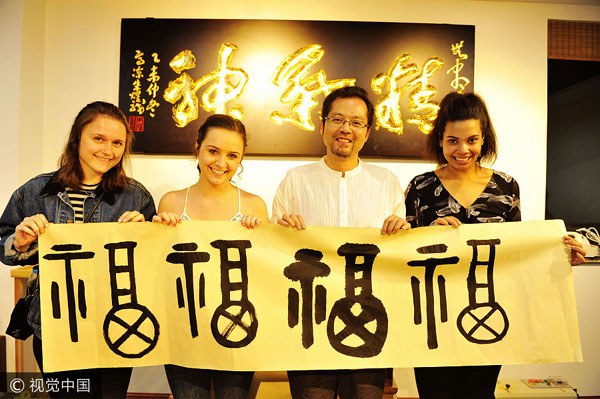 Students of US Confucius Institute pose with a Chinese calligrapher during their study tour in Qingdao, Shandong province, on May 25, 2016. [Photo/VCG]
Language is no longer a barrier for Chinese tourists in the United States as more Americans are learning Chinese.
English illiteracy which used to bother Chinese tourists and new immigrants is not an obstacle for them to enjoy the American way of life now. Many establishments, including banks, insurance companies, hospitals and schools, now have Chinese speakers to serve increasing number of Chinese travelling or moving to the US.
A survey by 24/7 Wall St website showed that Chinese has become the second most spoken foreign language in the US, only after Spanish. According to the study, close to 40 million US residents speak Spanish at home, followed by 2.1 million Chinese speakers. Tagalog, Vietnamese, French, Arabic, and Korean are each spoken by over 1 million people nationwide.
The research reviewed data from the US Census Bureau's (UCB's) 2015 American Consumer Survey on languages spoken most often at home, while considered data of UCB on the ancestry of state residents.
Frequent bilateral economic and people-to-people exchange has seen the interest in Chinese increase during the past years. There are over 500 schools registered in the US Chinese language school system with a total enrollment of over 200,000. The US also outperformed other countries in the numbers of Confucius Institute and Confucius Classroom with 110 Confucius Institutes and 501 Confucius Classrooms, according to the Confucius Institute Headquarter (Hanban). A variety of Chinese courses are operating at over 4,000 primary and secondary schools in the country.
Chinese training institutes, which used to serve Chinese American kids, are setting up extra classes to meet the increasing demand of Americans. Huaxia Chinese School, the largest Chinese school in the US, has established 22 branches from New Jersey, New York to Pennsylvania and Connecticut with the number of students reaching 7,000.
China's rise as an emerging economic power and the strengthening of Sino-US partnership mean a mastery of Chinese could keep American students competitive in the global market, which explains the popularity Chinese has been enjoying among young Americans. For US high school students, a high grade in Chinese could get them extra points when applying for colleges. The fondness for the time-enduring Chinese culture is another reason behind their enthusiasm of Chinese language.