Death toll in flood-hit Sri Lanka hits 202, hospitals to be evacuated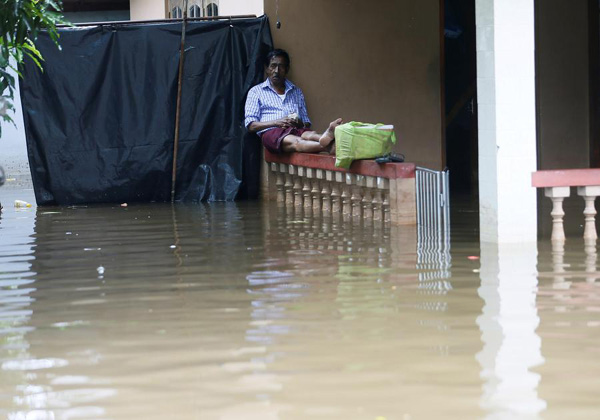 A man sits on a porch fence at his house caught in the flood in Nagoda village in Kalutara, Sri Lanka May 29, 2017. [Photo/Agencies]
COLOMBO - The death toll in Sri Lanka's devastating floods and landslides reached 202 by Wednesday morning while 96 people were still missing, the Disaster Management Center said.
Sixty-three people were injured and seeking treatment in state hospitals while over 600,000 people have been affected.
Severe rains and strong winds which lashed out across Sri Lanka since Friday have caused major floods and landslides in many areas of the island with the worst affected being the southern district.
As water levels are receding, tri forces along with rescue teams have now launched a massive clean up operation in order to restore normalcy in the affected areas.
At least 83,200 people are seeking shelter in safe locations and many are unable to return to their homes due to fully damaged or partially damaged houses.
According to the World Health Organization, at least 16 hospitals in flood hit Sri Lanka have been evacuated fully or partially as facilities have been directly affected by the floods or exposed to landslides, a UN statement released in Colombo said Wednesday.