Terrorism, Ukraine and Syria conflicts at heart of Macron, Putin meeting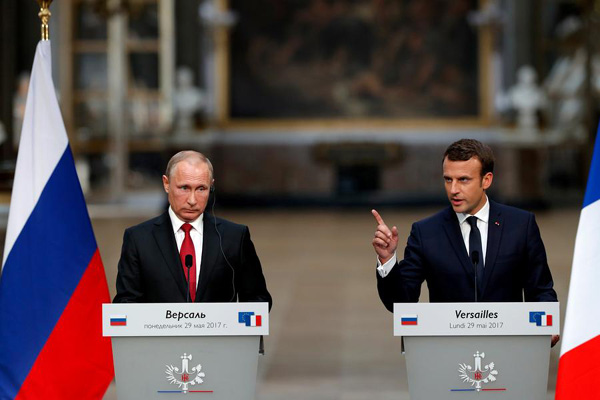 French President Emmanuel Macron (R) and Russian President Vladimir Putin (L) give a joint press conference at the Chateau de Versailles before the opening of an exhibition marking 300 years of diplomatic ties between the two countries in Versailles, France, May 29, 2017. [Photo/Agencies]
PARIS - French President Emmanuel Macron met Monday with Russian President Vladimir Putin in Versailles, wherein they discussed the fight against terrorism, as well as the Ukrainian and Syrian conflicts, the two leaders said during a joint press conference held at the end of their exchange.
"On Syria, I remind you...our priority is the fight against terrorism, in particular Daesh or the Islamic State (IS)," Macron said, underling that France must "reinforce" its partnership with Russia in order to "assure stability, democratic transition with a red line: the use of chemical weapons by whoever it may be."
For his part, Putin affirmed that where Syria was concerned "we have judged that we cannot fight against the terrorist threat in destroying the (Syrian) state."
"What is more important is the fight against terrorism. The French president proposed to put in place a working group that the experts can go to Moscow as they can to Paris," he added.
Concerning the conflict in Ukraine, Macron reasserted his will to reach a de-escalation of the conflict.
"Our wish is that an exchange with Germany and Ukraine can be held as soon as possible, and that a full report can be established," he indicated.
He confirmed that "at this stage, the G7 had discussions which didn't exclude an escalation if necessary. My wish is that there would not be an escalation. We will have a Normandy format discussion in the coming days."
The French president also spoke about the persecutions of homosexuals in Chechnya.
"I reminded President Putin of the importance for France of the respect of all people. We have evoked the case of LGBT people in Chechnya and NGOs in Russia. We have agreed to have extremely regular monitoring," he said.
Putin affirmed for his part that the two had tried to find common ground.
"I am persuaded that the first interests of France and Russia go beyond these points of friction. Economic relations are growing," he said.