UK lowers terror threat level to 'severe' as more arrested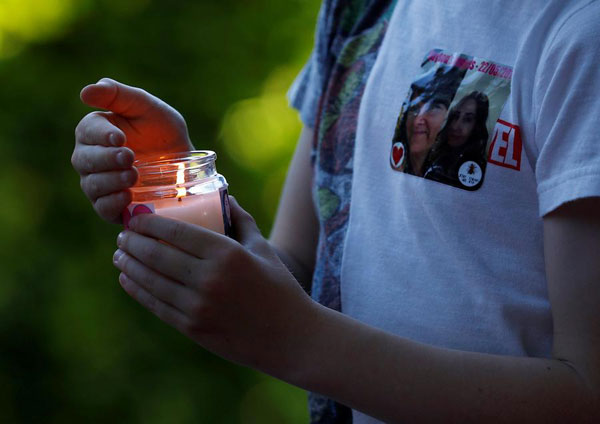 A boy carries a candle during a vigil for the victims of an attack on concert goers at Manchester Arena, in Royton, near Manchester, Britain, May 26, 2017. [Photo/Agencies]
MANCHESTER — Britain reduced its terrorism threat level a notch, from "critical" to "severe," as authorities said major progress has been made in unravelling the plot behind the Manchester bombing.
Prime Minister Theresa May said "a significant amount of police activity" and several arrests had led to the level being lowered. But she urged Britons to remain vigilant and said soldiers would remain at high-profile sites throughout the current holiday weekend. The troops will gradually be withdrawn from Monday, May said.
A severe threat means an attack is "highly likely," according to the scale set by Britain's Joint Terrorism Analysis Centre. Until it was raised Tuesday, it had stayed at severe since mid-2014.
Police made two more attests Saturday, bringing the number of suspects in custody to 11. All are men, aged between 18 and 44.
Greater Manchester Police said two men, aged 20 and 22, were detained early Saturday in the northwest England city on suspicion of terrorism offenses. Police used an explosive device to get into a property to make the arrests.
Investigators are searching several including bomber Salman Abedi's home in south Manchester and other houses in nearby districts.
Residents were evacuated from streets in the south Manchester neighborhood of Moss Side in what police called a precaution. Photos showed an army bomb-disposal unit at the property.
Mark Rowley, Britain's top counterterrorism police officer, said authorities have dismantled a "large part" of the network around bomber Salman Abedi. But he said there were still "gaps in our understanding" of the plot, as investigators probed Abedi's potential links to jihadis in Britain, Europe, Libya and the Middle East.
The 22-year-old Briton of Libyan descent died in Monday's explosion, which killed 22 people and wounded dozens as crowds were leaving an Ariana Grande concert.
Hundreds of soldiers have been sent to replace police at high-profile sites including Buckingham Palace and Parliament, and police armed with submachine guns are being deployed in city centers, transit hubs, tourist areas and major events.
Despite the alert, police have urged people to go out and enjoy themselves over the three-day holiday weekend. More than 1,000 armed police are on standby as major events including the Football Association Cup Final and the Premiership Rugby Final are expected to draw tens of thousands of people.
Manchester is slowly returning to normal, though dozens of people remain hospitalized and the damaged arena and adjacent Victoria train station remain closed.
Grande has promised to return to Manchester for a benefit concert. In a statement Friday, she said "I'll be returning to the incredibly brave city of Manchester to spend time with my fans and to have a benefit concert in honor of and to raise money for the victims and their families."
"Our response to this violence must be to come closer together, to help each other, to love more, to sing louder and to live more kindly and generously than we did before," she said. "We will not quit or operate in fear. We won't let this divide us. We won't let hate win."
                                                                                                                                                                     REUTERS