Kenya and Huawei sign agreement for digital transformation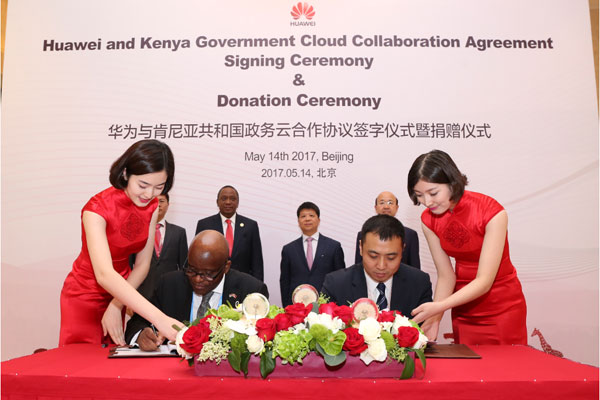 A Kenyan senior government official (left) and a Huawei senior staff witness the signing of a collaboration agreement between Kenya and Huawei in Beijing, May 14, 2017. [Photo provided to chinadaily.com.cn]
Kenyan President Uhuru Kenyatta, accompanied by several Kenyan senior government officials, visited the Huawei's Beijing Executive Briefing Center on Monday and held a discussion with Guo Ping, Huawei's rotating CEO.
The discussion involved the ways in which the two parties can work together to improve Kenya's internet cloud technologyinfrastructure, government cloud platform, public safety and smart cities.
Following the discussions, the Republic of Kenya and Huawei signed an agreement build a government cloud infrastructure.
The collaboration agreement covers how Huawei will help Kenya build the infrastructure necessary for government cloud services, migrate government data and applications to the government cloud, and create a platform for government departments to share data and better communicate.
This will help provide a "One-window style solution" for government services and improve government efficiency.
Huawei donated a set of safe city equipment to three major towns in Kenya to help strengthen policing capabilities and protect people's lives and property, which the president said is very useful and important for the country.
The equipment includes 6eNodeB Stations, 150 radio trunking terminals, and a radio trunking system core network and dispatch system. In addition, Huawei committed to extend its flagship ICT talent program, Seeds for the Future, for a further three years, from 2018-2020.
Seeds for the Future will provide training for 30 outstanding university students in the ICT field, giving them advanced training in China.
This equips local students with important skills to drive forward Kenya's ICT industry and the ICT ecosystem.
During the ceremony, Kenyatta expressed his appreciation to Huawei for providing ICT technologies to connect Kenya and help establish the country as East Africa's leading ICT hub.
He also thanked Huawei for contributing to building the country's ICT talent, enabling the country's digital transformation and speeding up its modernization and development with the government.
"I am extremely grateful to Huawei for the warm welcome today. The development of ICT and a country's future are closely intertwined. I appreciate the role played by Huawei in Kenya's development and progress and hope that Huawei can utilize Kenya's resources to expand regional and international markets," he said.
Kenyatta said Kenya looks forward to continuing its partnership with Huawei and that the partnership will accelerate the science and technology industry in the country, providing more job opportunities for youth.
"I believe that Huawei and Kenya can further deepen our cooperation on ICT, continue to drive forward Kenya's ICT industry and cement Kenya's role as an ICT leader in this region. Let us work together and we count on your support as we work on developing our technologies," the president said.
Huawei's Guo said ICT enables the development of a digital society.
"Across the world governments are making it one of their top priorities to utilize ICT to drive their digital transformation. Huawei recognizes that Kenya has made the development of its ICT industry one of its major priorities and invested accordingly," he said.
Guo said Kenya's Vision 2030 is highly strategic and forward-looking and will help guide the ICT industry forward and accelerate socio-economic growth.
With a clear focus on building Kenya's ICT infrastructure, he said Huawei will continue to work closely with Kenya to share its leading technologies and solutions, along with its global experiences to push forward Kenya's digital economic development.
In his speech, the Chinese ambassador to Kenya, Liu Xianfa, stated that by investing in ICT, emerging markets can leapfrog the investments made by mature markets.
He invited the delegation from Kenya in the One Belt, One Road forum to study the experiences of industrial development in China's central and western regions.
In the meeting, Huawei Kenya's CEO Dean Yu shared updates on Huawei's local activities and partnerships in Kenya. They include ICT projects, such as a mobile phone money transfer service and the national optic fibre backbone – a project aimed at ensuring connectivity in all the 47 counties in Kenya, as well as Huawei's Corporate Social Responsibility initiatives, including significant contributions to community development, wildlife protection, women's and children's welfare and supporting those affected by natural disasters.
Huawei has operated in Kenya for more than 19 years. Currently Huawei's ICT products and solutions cover services for Kenya's citizens and government.
Contact the writer at edithmutethya@chinadaily.com.cn