British grandma's fight against poverty in Chengdu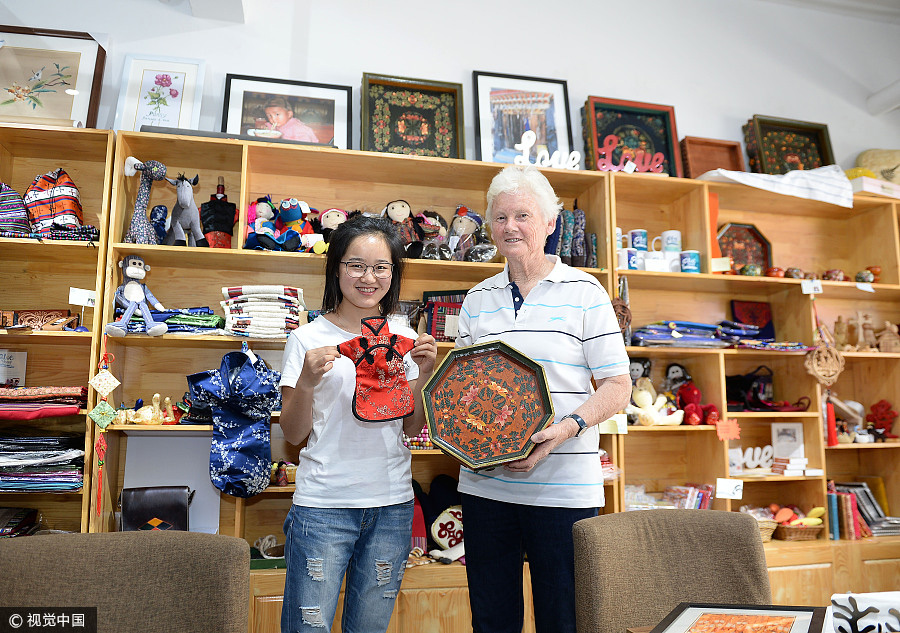 Rachel Grace Pinniger and her shop assistant Dai An display the items made by the ethnic minorities families at the store of Blue Sheep in Chengdu, Sichuan province, May 13, 2017. [Photo/VCG]
Those working on behalf of the poor and the physically disabled might be inspired by a 71-year-old British woman, Rachel Grace Pinniger, who has dedicated years to training primary care doctors in rural communities around Asia.
To further her efforts in China, Rachel, in 2013, opened a handicraft shop in Chengdu, capital of southwestern Sichuan province. Called "Blue Sheep", it offers a wide range of handmade ethnic items, Chengdu-based Huaxi community newspaper reported.
Although small, the store has benefited 600 or more impoverished families living in mountain areas. Rachel said that all the craft items displayed at her store were made by the hands of those ethnic minority families and by physically disabled.
"Last year, I brought some items of carved leather for 20,000 yuan ($2,900) from a self-employed craftsman in Chengdu. This father of two had big medical bills, as both of his children were suffering from Thalassemia, a genetic blood disorder," said Rachel.