EU Commissioner urges Poland, Hungary to take action in relocation scheme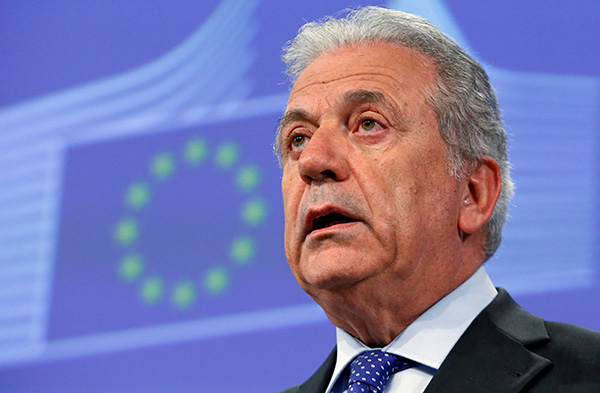 File photo shows European Commissioner for Migration and Home Affairs Dimitris Avramopoulos addresses a news conference at the EU Commission headquarters in Brussels, Belgium, May 4, 2016. [Photo/Agencies]
BRUSSELS - An European Union (EU) commissioner on Tuesday lambasted Poland and Hungary for not having relocated "a single person in need of protection", warning that the Commission would open infringement procedures if they are still loath to take action within one month.
Speaking at a press conference on the heels of a meeting of EU Commissioners in Strasburg, France, Commissioner for Migration, Home Affairs and Citizenship Dimitris Avramopoulos, said:" While the majority of member states are making efforts in a real European spirit, others continue to show no solidarity."
"This is why I call on Poland and Hungary who have not relocated a single person in need of protection to start doing so right now." he added.
"If no action is taken by them before the next report in June, the Commission will not hesitate to make use of its powers under the treaties and open infringement procedures," he warned, referring to the EU's report on relocation and resettlement, the latest edition of which was adopted by the Commission Tuesday.
According to the report, the total number of relocations from overburdened Italy and Greece to other EU member states as of May 12 stood at 18,418, a pace still lagged far behind the bloc's target set in September 2015, when member states pledged to relocate a total of 160,000 migrants within two years.
Apart from Poland and Hungary, the report urged the Czech Republic, which "has not been active in the scheme for almost a year", to "restart relocation without delay."
As for resettlement scheme, the report said that it as a whole remained on track, with 16,163 persons resettled to 21 countries since July 2015, when member states agreed to resettle a total of 22,504 asylum-seekers.