Confucius Institute at Pace University celebrates anniversary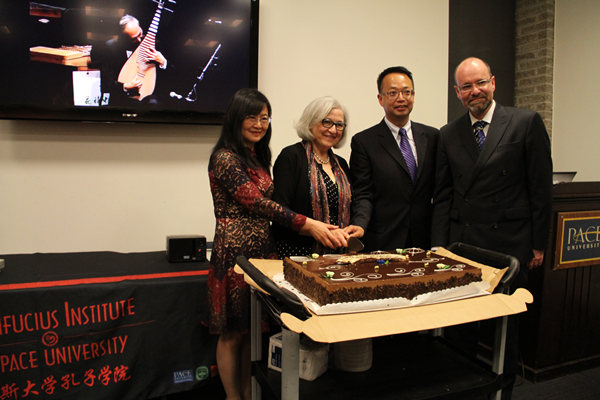 From left: Wenqin Wang, Chinese director of the Confucius Institute at Pace University (Pace CI); Nira Herrmann, dean of Dyson College of Arts and Sciences; Joseph Tse-Hei Lee, director of Pace CI, cut the cake for the 8th anniversary celebration of Pace CI at One Pace Plaza in New York on May 12. Xiao Jiaqiao / For China Daily
NEW YORK — For eight years now, the Confucius Institute at Pace University has been providing students with a window on China.
The CI celebrated the anniversary last Friday with a lecture on US and China relations, a panel discussion on global violence against women and girls, and a student award ceremony and cake-cutting.
Pace CI is the first university-based institute of its kind in New York, founded in partnership with Nanjing Normal University and China's Phoenix Publishing and Media Group.
Felix Roytman, a student at Pace CI, told China Daily that he started to learn Chinese in 2011.
"Every Friday, I come to the Chinese corner, and they have presentations about different topics of China, like Chinese food, Chinese wedding habits, Chinese music and so on," he said. "The more you know about the culture, the better you understand people."
CI is emphasizing those cultural aspects.
"I would say the Confucius Institute is a very important cultural platform that exists between the United States and China. And now the CI is trying to bring in more humanistic elements, liberal arts elements, to the whole cultural dialogue and people-to-people dialogue between these two wonderful countries," said Joseph Tse-Hei Lee, director of Pace CI.
"We create a Chinese cultural study scholarship to honor the best research paper done by our undergraduate students," Lee said, adding that Pace CI organizes public performances of Beijing Opera and lectures.
"We try to combine the cultural and academic elements together to help our students and the local community to better understand China," Lee said. 
He said that Pace CI will try to organize more academic and cultural activities and is encouraging more Pace students to apply for scholarships to study in China.
CHINA DAILY