Brazil's former President Lula faces graft charges in court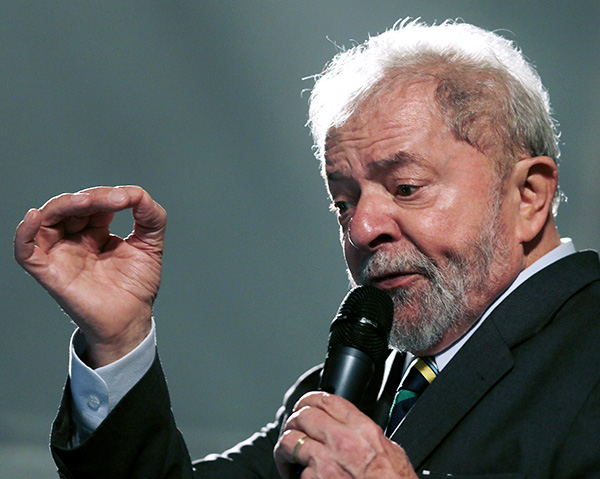 Former Brazilian President Luiz Inacio Lula da Silva speaks after giving testimony to federal judge Sergio Moro in Curitiba, Brazil, May 10, 2017. [Photo/Agencies]
BRASILIA - Brazil's sweeping investigation into the Petrobras corruption ring, named Operation Lava Jato (Car Wash), reached new heights of media and public attention on Wednesday as former President Luiz Inacio Lula da Silva was interrogated by judge Sergio Moro.
At 2 pm local time, Lula's interrogation began at the federal tribunal of Curitiba, capital of the state of Parana, with Moro seeking answers to charges of corruption and money laundering against the charismatic politician.
Upon arriving at the court, Lula received applause and cheers by a large number of supporters, which were kept back around 150 meters from the building.
Thousands of activists from Lula's Workers' Party (PT), the Central Workers' Union (CUT) and others had gathered to celebrate the former leader and denounce what they see as a conspiracy against him. Lula's successor and friend, former President Dilma Rousseff, was also on hand to lend her support.
A smaller group of protesters, who support Lula's appearance in court, also made their voices heard.
The interrogation saw Moro interviewing Lula for around three hours, before turning the witness over to federal prosecutors and then allowing the defense team to have their turn.
Earlier in the day, Brazil's Supreme Court rejected a petition by Lula's defense team to postpone his testimony.
His lawyers claimed they had not had enough time to review all the documentation related to the case and requested 90 days to analyze it.
They stated they had received around 5,000 documents, with a total of around 100,000 pages, over the last couple of weeks.
Lula is accused of having received bribes worth 3.7 million reais (1.15 million US dollars) from the OAS construction company, in the form of a three-floor apartment in Guaruja, a resort town on the coast of Sao Paulo.
Should he be found guilty and should the sentence then be upheld by a higher court, Lula would be automatically barred from standing for president in the 2018 election. Opinion polls constantly show him as the most favored candidate by the Brazilian electorate.
Also on Wednesday, Supreme Court Justice Marco Aurelio de Mello said there was no current motive to detain Lula.
Speaking to the press during Lula's interrogation, Mello said the court case into Lula was not concluded but that, for the moment, "it is not necessary to halt the natural order of the judicial process."
He said that this order should be "investigate, prove guilt and carry out the sentence... What should be an exception, provisional prison...has become the norm."
Moro, the head judge for Lava Jato, has been criticized for maintaining various accused people in preventive prison for long periods.
There is no precise date for Moro to give his ruling on Lula's case but it is expected to take several weeks.