Russia, Turkey agree to remove trade restrictions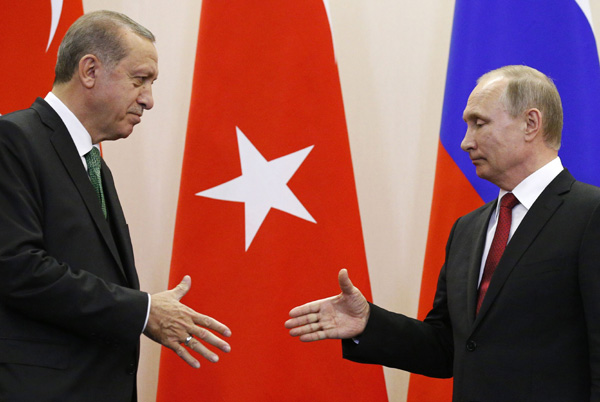 Russian President Vladimir Putin (right) shakes hands with his Turkish counterpart Tayyip Erdogan in Sochi, Russia, on Wednesday.Alexander Zemlianichenko / Reuters
SOCHI, Russia - Russia and Turkey have agreed to lift nearly all remaining trade restrictions imposed in the aftermath of Ankara's downing of a Russian warplane in 2015, President Vladimir Putin said on Wednesday.
"You asked when we can speak about the lifting of the restrictions that emerged some time ago. We can speak of that today," Putin said at a news conference alongside his Turkish counterpart Recep Tayyip Erdogan.
"We agreed on a comprehensive solution to all these problems linked to the restrictions."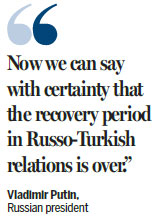 Relations between Moscow and Ankara hit rock bottom after Turkey's shooting down of a Russian warplane in Syria, which Putin at the time labeled a "stab in the back".
In the wake of the incident, Moscow slapped a range of sanctions on Ankara, including an embargo on some Turkish food products, as well as a ban on charter flights and sales of package tours to the country and the reintroduction of visas for Turkish visitors.
But Putin said on Wednesday that Russia's embargo on the import of tomatoes from Turkey and its visa restrictions on Turkish nationals will remain in place for the time being.
He did not provide a timeline for the lifting of these two restrictions.
"Now we can say with certainty that the recovery period in Russo-Turkish relations is over," Putin said. "We are returning to a normal cooperation partnership."
Putin last year ordered that the government normalize trade ties with Turkey as he lifted the ban on the sale of packages tours in Turkey.