Protests against constitution revision mark Japan's 70th Constitution Memorial Day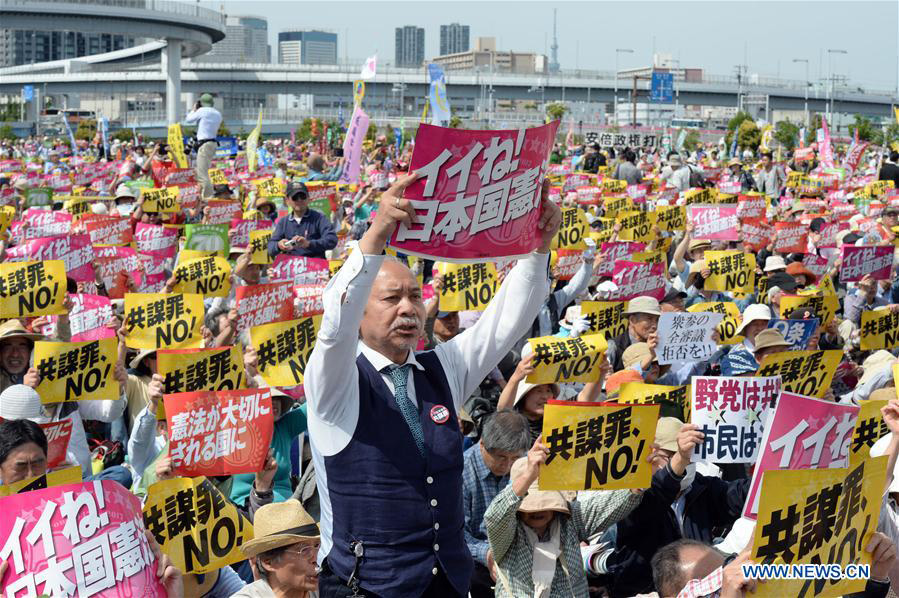 Citizens attend a protest against Japanese Prime Minister Shinzo Abe's attempts to amend the nation's pacifist Constitution in Tokyo, Japan, on May 3, 2017. [Photo/Xinhua]
TOKYO - Some 55,000 people rallied here Wednesday to protest against Japanese Prime Minister Shinzo Abe's attempts to amend the nation's pacifist Constitution as the nation marked its 70th Constitution Memorial Day.
"Safeguard the Constitution! No more wars!" Protesters, including students, legal experts, representatives from opposition parties, as well as common citizens, shouted at the city's Rinkai Disaster Prevention Park, holding banners and flags.
Renho Murata, leader of the largest opposition Democratic Party, said at the gathering that the Constitution belongs to the people and it should be up to the common people whether to amend the Constitution or not.
What the Abe administration has done is threatening the basic principles of the pacifist Constitution and Abe's attempts to amend the Constitution shall be firmly opposed, she added.
Kazuo Shii, head of the Japanese Communist Party, said that what shall be changed is not the Constitution but the government's attempts to ignore the Constitution.
Shori Sato, a citizen in Tokyo, expressed concerns that Japan would be involved in wars without the pacifist Constitution.
"It's because of the pacifist Constitution that we could enjoy our life as we do now. We would lose our peaceful life if Japan is involved in wars," he said.
Tazuko Ikeda, another protester, said that people value peace more after experiencing the terrors of war and the pacifist Constitution is worth guarding.
Abe, however, on Wednesday reiterated his attempts to amend the Constitution in a video message at a gathering to celebrate the 70th anniversary of the Constitution coming into force.
He said he hopes to see a revised Constitution go into effect in 2020 under a plan that will see the first-ever change to the post-war charter.
He specifically mentioned Japan's Self-Defense Forces (SDF).