Chinese ships pay visit to Philippines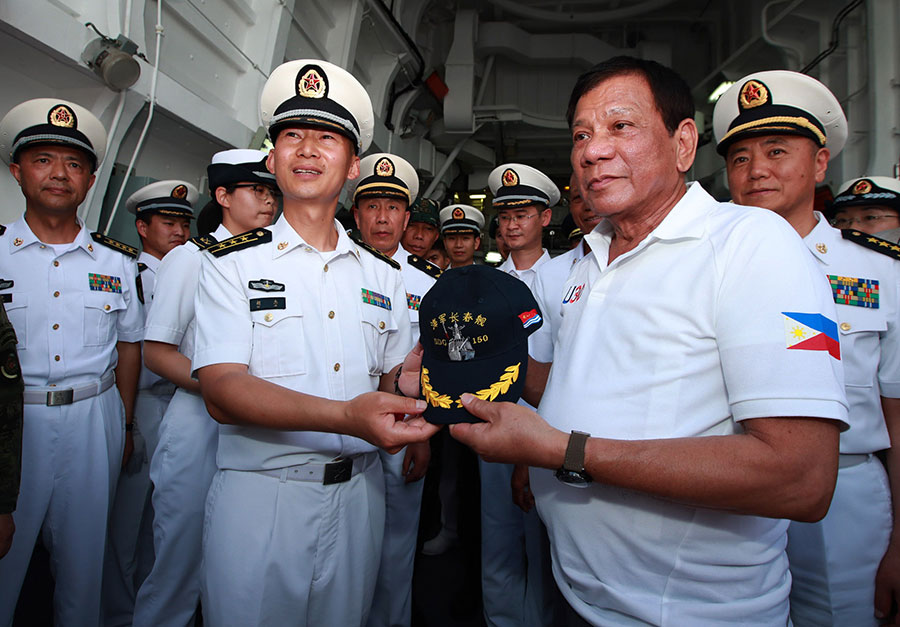 Captain Hu Jie of CNS Changchun gives a cap from the missile destroyer to Philippines President Rodrigo Duterte, right, onboard the ship on Monday during a PLA Navy goodwill visit to Mindanao, the first stop of a 20-nation, three-vessel tour. YU WEI / FOR CHINA DAILY
Philippine President Rodrigo Duterte visited Chinese warships docked in his hometown on Monday, Xinhua News Agency reported.
Duterte boarded the guided missile destroyer Changchun, which arrived with two other vessels in Davao city on Mindanao island on Sunday for a three-day goodwill visit.
Duterte said he is open to the idea of conducting joint military exercises with China. "I agree (to the idea). They can have joint exercises here in Mindanao, maybe in the Sulu Sea," Duterte told reporters after visiting the warship at the Davao city wharf.
Duterte said he was impressed by the warship. "It's all carpeted. It's so beautiful. Inside, it's like a luxury hotel," he said. "It's clean."
He said the visit to the warship was part of the confidence building and goodwill between Manila and Beijing.