Tornadoes, storms kill 11 in US South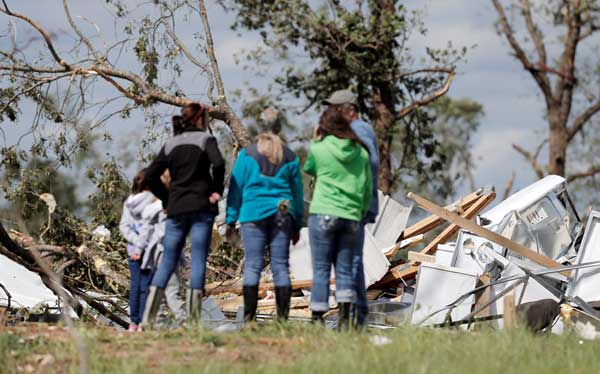 Homeowners take stock of damage to their home after a tornado hit the town of Emory, Texas, US April 30, 2017. [Photo/Agencies]
Tornadoes ripped through an East Texas county on Saturday evening, killing at least four people and injuring dozens, while high winds, falling trees and floods killed five in neighboring states, according to news reports.
Three tornadoes were confirmed by the US National Weather Service in Canton, a city about 60 miles (95 km) east of Dallas in Van Zandt County.
The winds flipped over cars, snapped trees, destroyed houses and left roads strewn with debris and fallen power lines,according to photographs and video published by the Dallas Morning News.
"We have at least four fatalities," Canton Mayor Lou Ann Everett said at a news conference on Sunday, adding that number could rise. "The damage was extensive in the affected area. It is heartbreaking and upsetting." Forty-nine people had been treated for injuries, she said.
Earlier a Canton fire department captain said he believed five people had been killed.
The mayor urged people to stay away from a sprawling flea market known as First Monday Trade Days, as crews tried to clean up debris.
Texas Governor Greg Abbott sent a search and rescue team to the area.