Investing in history
Chinese developer negotiates UK's strict heritage controls to turn iconic London building into luxurious hotel
When Chinese property developer Reignwood formally launches its ultra-luxury Ten Trinity Square hotel in London this May, visitors are likely to be amazed by the balance between the historically important listed building's ornate external architecture and its modern, comfortable interior.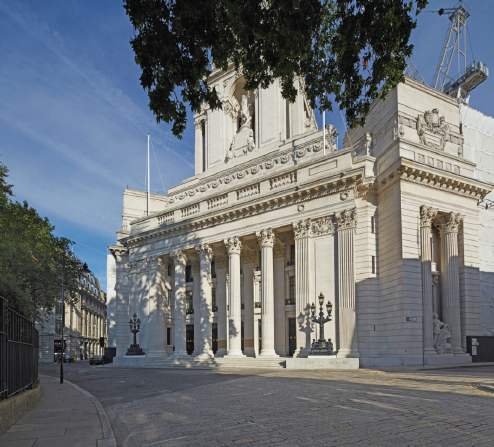 LONDON'S 10 TRINITY SQUARE, a property containing a hotel, residential units and a private members' club, was developed by Chinese property developer Reignwood.  
Creating such an icon is no easy task. It took Reignwood seven years and a cumulative investment of £500 million ($630 million; 590 million euros) to get the property into the shape it is in-and such a large investment is sure to put pressure on the company to generate income and recoup its costs.
"It is our first overseas hotel," says Ni Songhua, president of Reignwood Investments UK. "We are keen to make it an icon, to showcase how we strive for top quality, which is embedded in our business philosophy.… I'm very proud to see how this building has been transformed over the past seven years. We've experienced many challenges, but we have confidence in its future."
Ten Trinity Square is just east of the City of London, adjoining Trinity Square Gardens. It overlooks the Tower of London and Tower Bridge.
In the UK, older or iconic buildings are protected by a grading system, which brings with it strict control over what changes can be made.
Ni is speaking inside the library of the private members' club attached to the hotel. It is a spacious room, enclosed by four walls of neatly stacked books. The dark wooden bookshelves create the feeling of an ancient university library.
The design seems perfectly fitting for the building's almost century-long history. Designed by Edwardian architect Sir Edwin Cooper as the headquarters for the Port of London Authority, it was opened in 1922 by Prime Minister David Lloyd George.
Severely damaged by German attacks during the bombing of London in World War II, the building was restored in the 1970s and used as the European headquarters of insurance broker Willis Faber. In 2006, it was acquired by the US group Thomas Enterprises, with the intention of developing it into a hotel and residential unit. But the 2008 financial crisis made the plan unfeasible and, in 2010, the building was sold to Reignwood for £106 million.
"From the first moment I saw the building, I understood that its history and heritage are what makes Ten Trinity Square truly unique. Everyone at Reignwood is extremely proud to have the rare opportunity to carefully restore such a prestigious part of London's past," says Ni.
Despite beautiful intentions, Ni acknowledges that a very challenging period followed the acquisition, when his team realized the restoration work would take far longer and require much more money than first thought.
"In China, property development is done very quickly. We did not expect the government consent for restoration work on this building to be so lengthy," Ni says.
"Take that window, for example," he says, pointing to an opening from the library. "We are so used to the idea of double-glazed windows nowadays, but how can you change the old windows into double-glazed windows without risking damage to the listed building? That is something that requires a separate consent form. Likewise, many other very small changes within the building also required consent."
Consent application paperwork took more than two years to be dealt with, and construction started in 2013.
Large-scale investment, combined with strong perseverance from Ni and his colleagues, led to the completion of the hotel's reconstruction, and the team secured a partnership with Four Seasons, the company that will manage it.
The Four Seasons partnership was seen as a real stamp of confidence, given that the international hotel group currently only has one hotel in central London-on Park Lane.
In addition to the 100-room hotel, Ten Trinity Square also comprises 41 luxury residential units in the same building, aimed at prosperous individuals. There is also the private members' club, which is run in cooperation with Four Seasons and France's Chateau Latour.
The super-luxurious standards at Ten Trinity Square mean high operating costs, and the hotel will have to compete with the portfolio of other high-end heritage hotels in London, including the Savoy, the Dorchester and the Ritz.
Marc Finney, head of hotels and resorts consultancy company Colliers International, believes the main risk facing Ten Trinity Square is its untested location because, traditionally, most of London's luxury hotels have been located in the West End.
"Ten Trinity Square also faces competition from other high-end hotels with a similar vision, combining landmark buildings with modern facilities to target high-end emerging market clients," Finney says, naming the Corinthia, the Old War Office and Admiralty Arch as examples.
But Ni says Ten Trinity Square's strength is its location. "London's property development market is experiencing an eastward shift.
In our fast-paced world, time is precious for executives, and London's traffic is becoming increasingly congested. Ten Trinity Square's location, between London's two financial districts, makes it a perfect location for business travelers."
The districts he refers to are the City of London and Canary Wharf.
Reignwood's unconventional choice of location perhaps reflects a certain risk-taking attitude and an eye on the future, similar to the ideas of the generation of Chinese property developers who went from rags to riches on the back of China's tremendous economic growth.
It may well be that same attitude that has led the Chinese developer ABP to invest £1.7 billion in its 10-year project to develop a commercial area near City Airport in East London. ABP Chairman Xu Weiping's thoughts about the area's proximity to City Airport and Canary Wharf resemble Ni's vision.
Meanwhile, Reignwood's investment also fits into a rapidly accelerating trend of growing Chinese investment into the UK's commercial assets, which accelerated in the wake of Brexit. According to the latest statistics by property broker JLL, Chinese investors bought more than £3.15 billion worth of central London commercial assets in 2016, accounting for 22.5 percent of total central London transaction volume.
Reignwood was founded in 1984. In China, it is perhaps best known as the developer of Reignwood Pine Valley Hotel, a luxurious hotel resort next to the Great Wall of China, with a 54-hole golf club attached.
In addition to property development, Reignwood has also made investments in the catering and culture industries. It is the Chinese distributor of Red Bull drinks and more recently has made equity investments into the United States-based coconut water brand Vita Coco and Norwegian water brand Voss. It plans to introduce those products to China.
In Britain, Reignwood followed its Ten Trinity Square purchase with two investments in 2014. It bought 55 Mark Lane in the City of London, where it will have its London office and space for 11 tenants. It also bought the century-old Wentworth golf club for£135 million.
"We bought the club for its history and heritage, but major lack of investment over the years has meant that the facilities are rather run-down," Ni says. "We've since invested heavily to revive the glamour and prestige that is worthy of the club."
But, as with Ten Trinity Square, investing in the Wentworth course was a major task that included plenty of unexpected twists. Reignwood's strategy to increase membership fees and cap the number of members was met with opposition from some existing members. But Ni says the majority supported most of the improvements. Wentworth is also the current location of the prestigious BMW PGA Championship.
According to Ni, British Chancellor Philip Hammond, who is also the local MP in the Wentworth area, said he was impressed with Reignwood's investments at Wentworth and felt the company had done a good job of coordinating with club members.
On the subject of profitability, Ni says Reignwood has a long-term strategy, just as it does with Ten Trinity Square.
"We are hoping to make Wentworth an iconic brand, and we're sure profits will follow in the long term."
Reignwood Investments UK Ltd
Industry: Conglomerate
Year of entry into the UK: 2010
Address: 55 Mark Lane, EC3R 7NE
Parent company in China
Reignwood Group
Industry: Conglomerate with a focus on property
Year of founding: 1984
Address: Reignwood Center, 8 Yong'anDongli, Jianguomenwai Dajie, Chaoyang District, Beijing