Top Chinese opera company debuts The Wager on London stage
One of China's top performing ensembles, the Shanghai Opera House, is bringing the United Kingdom premiere of the contemporary Chinese opera The Wager to London's Silk Street Theatre at Guildhall School, next month.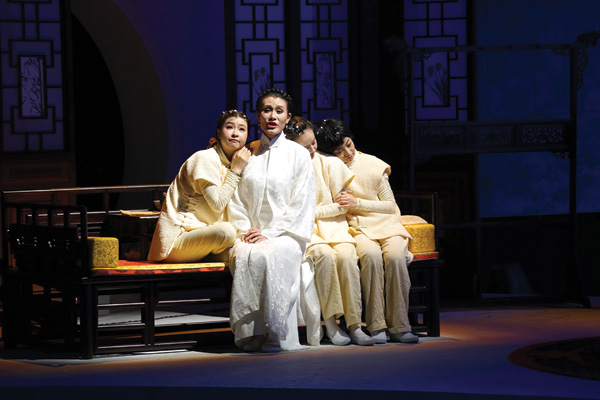 Members of the cast.
The production is a collaboration between the Chinese opera company's singers and the orchestra from the Guildhall School of Music & Drama.
The Chinese opera is based on the novel A Gamble on a Snowy Night by Gao Xiaosheng.
The story opens on New Year's Eve and follows Zhao, a squire, during his interaction with a beggar who appears in rags seeking alms.
Composer Wen Deqing said: "The modernity in music is much closer to the aesthetic habits of modern people. Chinese language, as a one-syllable language with four different tones for each sound, directs the movement for vocal music."
The Chinese-Swiss composer also drew inspiration from traditional Chinese arts, and a combination of traditional instruments, to give a strong presentation of Chinese culture.
But he also used unconventional instruments, including wine bottles, a fan machine, and the percussion from Peking Opera to add "a touch of Zen".
"With straightforward drama plots and English surtitles, this opera will be easily understood and accepted by the British audience," Wen said.
Also in May, the Shanghai Chinese Orchestra will perform The Elegant East, a concert of traditional Chinese music, at Milton Court Concert Hall, also at the school. The music will be performed on traditional Chinese instruments, including a guqin, which is a plucked seven-stringed instrument, a bamboo flute, and a pipa, which is a Chinese lute.
Lynne Williams, principal of the Guildhall School of Music and Drama, said: "The Guildhall School is delighted to welcome the (productions) to London for this residency in what is another fantastic opportunity for the school to further develop its cultural ties with China and to make a significant contribution to cultural exchange in this way."
Lord Mayor of the City of London Andrew Parmley noted the cooperation for the production is consistent with the Belt and Road Initiative.