Thousands evacuated after weekend bombing in Syria
Up to 30,000 to leave under deal brokered by Qatar and Iran
RASHIDIN, Syria - Thousands of Syrians were evacuated from besieged towns on Wednesday with tight security in place after a weekend bombing against those leaving government-held areas killed dozens, including 70 children.
The evacuations are part of a deal between government and opposition representatives to relieve thousands from suffocating sieges imposed by the government and rebels.
A large convoy of buses set out from the government-held towns of Fuaa and Kafraya in Idlib province on Wednesday morning, carrying 3,000 people to the rebel-held transit point of Rashidin near Aleppo.
At the same time, 11 buses carrying around 300 people left rebel-held Zabadani, Serghaya and Jabal Sharqi in Damascus province, observers said.
Evacuees finally reached the government-controlled district of Ramussa south of Aleppo on Wednesday evening.
Security was tight throughout the day, after a devastating bomb attack on evacuees in Rashidin on Saturday that killed 126 people.
The so-called Jaish al-Islam group claimed responsibility for the attack.
Most of the dead were from the two Shiite-majority towns, with a handful of aid workers.
Dozens of wounded were taken to hospitals in nearby rebel-held territory, while others were taken to Aleppo, which government forces regained full control of last year.
Um Joud from Fuaa, said it was difficult to describe how she felt.
"Of course I would have preferred to stay in my home, but I left for the sake of my children and their lives and futures," the 55-year-old said.
The deal was brokered last month by Qatar and Iran, but its implementation had been repeatedly delayed.
Wednesday's evacuations mark the end of the first stage of the deal, with a second phase due to begin in June.
Fuaa and Kafraya will be emptied entirely, with residents and fighters heading to Aleppo and then on to government-held Latakia or Damascus.
All rebels are expected to leave Madaya, Zabadani, and other nearby oppositions-held areas, but civilians who want to remain may do so.
In all, up to 30,000 people are expected to leave under the deal. President Bashar al-Assad said evacuation deals are the best way to end the six-year civil war, but the opposition said they amount to forced relocation after years of bombardment and siege.
The United Nations said 600,000 Syrians live under siege, mostly by the Syrian army, but also by rebels or the Islamic State group.
The war has killed more than 320,000 people since it began with anti-government protests in March 2011. More than half of the population have been forced from their homes.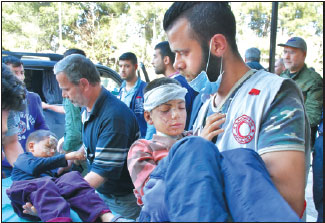 Syrians who were injured in a car bomb blast on Saturday arrive at a hospital in government-controlled Aleppo on Wednesday.George Ourfalian / Agence Francepresse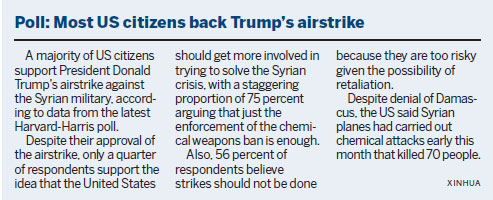 (China Daily 04/21/2017 page12)