O'Reilly out at Fox News Channel, still denies allegations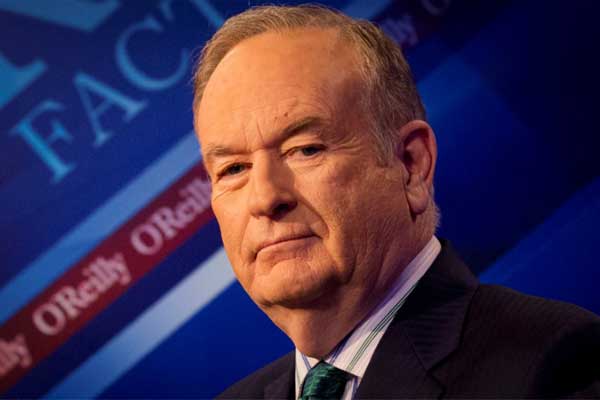 Fox News Channel host Bill O'Reilly on the set of his show "The O'Reilly Factor". [Photo/Agencies]
NEW YORK — Fox News Channel's parent company fired Bill O'Reilly on Wednesday following an investigation into harassment allegations, bringing a stunning end to cable news' most popular program and one that came to define the bravado of his network over 20 years.
The downfall of Fox's most popular — and most lucrative — personality began with an April 2 report in The New York Times that five women had been paid a total of $13 million to keep quiet about disturbing encounters with O'Reilly, who continued to deny any wrongdoing in a statement hours after he was fired. Dozens of his show's advertisers fled within days, even though O'Reilly's viewership increased.
O'Reilly's exit came nine months after his former boss, Fox News CEO Roger Ailes, was ousted following allegations of sexual harassment.
Following the Times story, 21st Century Fox said it had asked the same law firm that investigated Ailes to look into O'Reilly's behavior. 21st Century Fox leaders Rupert Murdoch and his sons Lachlan and James said in a memo to Fox staff that their decision to ax O'Reilly came following an "extensive review" into the charges.
"I understand how difficult this has been for many of you," Rupert Murdoch said in a memo to Fox staff.
O'Reilly, denied a chance to say goodbye to his Fox viewers, did so via a statement.
"It is tremendously disheartening that we part ways due to completely unfounded claims," he said. "But that is the unfortunate reality that many of us in the public eye must live with today. I will always look back on my time at Fox with great pride in the unprecedented success we achieved and with my deepest gratitude to all my dedicated viewers."O'Reilly's dismissal doesn't signal any change of direction for the network: Fox said conservative pundit Tucker Carlson would move into O'Reilly's time slot — the second time in three months he's replaced an exiting prime-time personality. Carlson, a veteran who has hosted shows on CNN, MSNBC and PBS, had taken over for Megyn Kelly in January when she announced she was moving to NBC News.