Chinese envoy to UK says ties to UK are 'high, deep, hot and broad'
Chinese ambassador to the UK Liu Xiaoming described China and Britain's relationships as "high, deep, hot and broad" at a dinner in London celebrating the two countries' 45 years of ambassadorial-level diplomatic relations on Tuesday.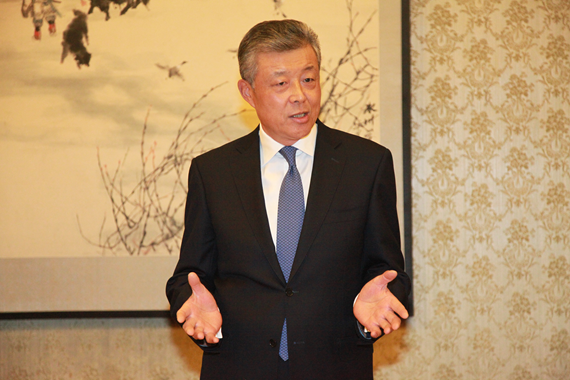 Chinese ambassador to the UK Liu Xiaoming 
Speaking to former British ambassadors to China at the event, hosted at the Chinese embassy, Liu said the two countries' relationship over the past 45 years have demonstrated the political wisdom and sincerity for achieving win-win cooperation between the two countries.
"Over the past 45 years China-UK relations took many historic steps and developed by leaps and bounds. If you ask me how I would describe today's China-UK relations, I have four words: high, deep, hot and broad," Liu said.
As a highlight of this relationship, when Chinese President Xi Jinping made a state visit to the UK in 2015, the two countries made a joint commitment to upgrade bilateral ties to a global comprehensive strategic partnership for the 21st century.
That also marked the beginning of the two countries "golden era" of relations, which was reaffirmed when President Xi met with the British Prime Minister Theresa May during the G20 Global Leaders' Summit in Hangzhou last year.
In addition to high level political support for the two countries' relations, Liu also highlighted bilateral ties as 'deep', especially in the way bilateral relations pioneered a number of 'firsts'.
Britain was the first among major Western countries to join the Asian Infrastructure Investment Bank, and the first to issue renminbi sovereign bonds. London has become the largest renminbi offshore market outside China, and in turn, China has also chosen London to issue its first renminbi sovereign bonds and central bank bills outside China.
According to Liu, China has invested a cumulative total of over $17 billion in the UK, which is more than Chinese investments in any other European country. One flagship investment project is China General Nuclear' s participation in the UK's Hinkley Point C nuclear project.
Liu also termed bilateral relations as 'hot' to describe the friendly exchanges between the two countries. Increasing exchanges between the two countries are impacting their citizens at all levels. The two countries have established 60 twin cities, and in 2016, Chinese and British nationals made 1.5 million visits to each other's country, a 50 percent growth from five years ago.
The two countries co-hosted the Year of Culture Exchange in 2015 and a series of commemoration events in 2016 to mark the 400th anniversary of the passing of Tang Xianzu and William Shakespeare, titans of Chinese and British literature respectively.
"All these events are evidence that the people-to-people and cultural exchanges have taken deep root in our peoples' hearts and minds," Liu said.
Lastly, Liu highlighted bilateral cooperation on "broad" global issues. Both countries are permanent members of the UN Security Council, and have maintained sound cooperation within the framework of the UN and G20.
"We have had close coordination over global governance, climate change, free trade and other major international issues. We have made joint statements on Syria and Afghanistan. And we have been engaged in global exchanges and cooperation on health issues, counter-terrorism and peacekeeping." Liu said.
He said the "high, deep, hot and broad" relationship between the two countries are achieved due to the "vision and wisdom" of leadership, extensive support from the society, and commitments and efforts by generations of Chinese and British diplomats.
"At present, the China-UK relationship is at a new historical high point," Liu said, adding the two countries should strive to continue build deep cooperation, strong ties and make China-UK ties a fine example of relationships between China and Western countries.
To contact the reporter: cecily.liu@mail.chinadailyuk.com