Suspect in Facebook video murder kills self in Pennsylvania, US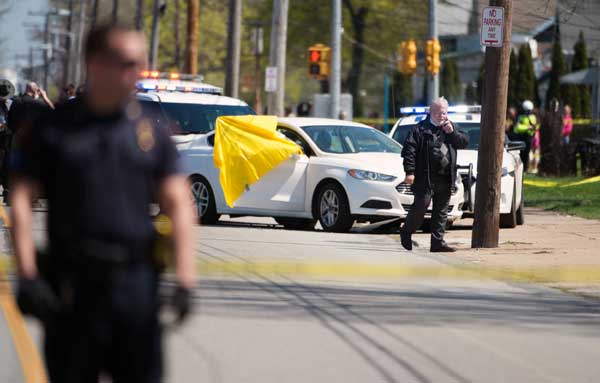 Coroner Lyell P. Cook (R) examines the car of a fugitive, who police said posted a video of himself on Facebook killing an elderly man in Cleveland, is seen after he shot and killed himself following a brief police pursuit in Erie, Pennsylvania, US April 18, 2017. [Photo/Agencies]
ERIE, Pa. - A murder suspect who police said posted a video on Facebook of the killing of a Cleveland man fatally shot himself after a "brief pursuit" by Pennsylvania State Police officers on Tuesday, police said.
Steve Stephens was accused of shooting Robert Godwin Sr., 74, on a sidewalk on Sunday before fleeing in a car and uploading a video of the murder to Facebook, becoming the focus of a nationwide manhunt.
Pennsylvania State Police officers found Stephens in Erie County, Pennsylvania, after getting a tip around 11 a.m. local time from a "concerned citizen" who saw Stephens at a McDonald's, Major William Teper Jr. of the Pennsylvania State Police told a news conference on Tuesday afternoon. Local media said an employee at the restaurant's drive-through window called police.
Stephens had left the restaurant but stopped briefly when officers located his car nearby. He sped away, and police then hit his car with their vehicle, causing him to lose control and spin out, at which point Stephens shot himself, Teper said.
Stephens, who had no prior criminal record, was not suspected in any other killings, Cleveland officials said. Stephens said in a separate video on Facebook on Sunday that he had already killed a dozen others.