Australia scraps skilled migrant visa to protect jobs
Two new, shorter and closed-ended temporary visas will replace the 457 skilled migrants visa program
CANBERRA, Australia - The country's skilled migrant visa will be abolished in favor of a new "Australians first" approach, Prime Minister Malcolm Turnbull said on Tuesday.
In a video posted on social media on Tuesday, Turnbull announced that the 457 skilled migrant visa program would be abolished in favor of two new visas which will require additional requirements for migrants to work in Australia.
Currently, the 457 visa allows Australian employers to turn to overseas workers to fill shortages in skilled positions.
Crucially, it is currently uncapped and, as of September 2016, there were 95,757 skilled workers in Australia.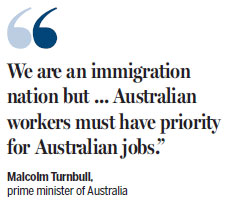 Turnbull said that under the new rules, Australians must be given the "first crack" at jobs, while skilled migrants would be brought in to "fill the gaps" in areas which are suffering a skills shortage.
"We are putting jobs first, we are putting Australians first ... we are an immigration nation but the fact remains that Australian workers must have priority for Australian jobs," Turnbull said in the video.
"Australian workers must have priority for Australian jobs, so we are abolishing the 457 visa, the visa that brings temporary foreign workers into our country. We will no longer allow 457 visas to be passports to jobs that could and should go to Australians.
Two new, temporary visas will replace the 457 skilled migrants visa, and will be "very different" from the one which it replaces. In addition to the visas being shorter and closed-ended, applicants will require two years of work experience, as well as a proper police check and criminal check which Turnbull said was "not the case at the moment".
Immigration Minister Peter Dutton said the new visas would be two and four years respectively, while they will both carry no "permanent residency outcome".
"In many cases (the 457 visa) results in a migration outcome, that is, someone going into permanent residency and becoming a citizen, which is a significant attraction of the 457 visa," he told the press.
Meanwhile, US President Donald Trump on Tuesday was scheduled to sign an executive order directing federal agencies to recommend changes to a temporary visa program used to bring foreign workers to the United States to fill high-skilled jobs.
The order will call on the federal government to propose reforms to ensure H-1B visas are awarded to the most skilled or highest paid applicant.
H-1B visas are intended for foreign nationals in "specialty" occupations that generally require higher education, which according to US Citizenship and Immigration Services includes, but is not limited to, scientists, engineers or computer programmers. The number of applications for H-1B visas fell to 199,000 this year from 236,000 in 2016, according to UCIS.
(China Daily 04/19/2017 page14)