China's WeChat Pay system to expand into the UK next month
WeChat Pay, China's biggest mobile payment platform in terms of number of transactions, is expanding into the United Kingdom next month, where it will offer a new payment option to British retailers looking to attract Chinese shoppers.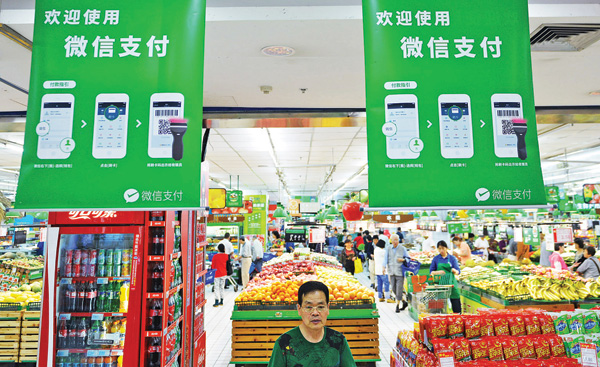 WeChat Pay advertisements hang from the ceiling at a supermarket in East China's Hangzhou city.  LONG WEI/CHINA DAILY
WeChat Pay became available in Italy in 2015, allowing Italian merchants to take mobile phone payments from Chinese users. The system allows Chinese customers to make payments by scanning a barcode provided by the merchant. After WeChat Pay's expansion into the UK, it will be rolled out to France and Germany.
"In overseas markets, like Europe, we will keep focusing on the development of services to best serve EU companies interested in leveraging digital channels to foster business opportunities with Chinese customers," said Andrea Ghizzoni, European director of Tencent, the company that owns WeChat.
In the UK, WeChat Pay has linked up with the British payment company Tramonex, which will help WeChat Pay integrate its payments infrastructure with British retailers.
"We know we can bring real value to the WeChat Pay solution and the entire team is very excited about this opportunity," said Amine Berraoui, CEO of Tramonex. "This arrangement goes a long way in developing Tramonex's footprint and awareness within Asia and completely opens up the East-to-West corridor, fulfilling the goal of facilitating 'global flows'."
WeChat Pay, which has 800 million users in China, is a unit of the Chinese internet giant Tencent. WeChat is China's largest social media network in terms of daily users, and its influence means that WeChat Pay can be used for daily activities, such as buying breakfast, booking hotels and paying for flights.
WeChat Pay's European expansion follows that of Alipay, another Chinese mobile payment company, which is an affiliate of the Chinese e-commerce giant Alibaba. With two years of operating history in the UK, Alipay is already linked up with powerful European banks, including BNP Paribas, Barclays and UniCredit, enabling 930,000 merchants to join its payment network.
In the UK, Alipay is accepted at many luxury stores and brand retailers, including Harrods in London. Alipay has 450 million active users in China.
Ghizzoni said WeChat Pay is already available at more than 50 locations in Italy, including large fashion and luxury brand outlets, retail companies and the hospitality industry.
"Revenues are already in the range of millions, and we expect them to grow significantly this year," he said.
Ghizzoni added that WeChat Pay is also working with clients to find ways to promote their products to Chinese consumers, leveraging on WeChat's advertising capabilities and Tencent's cloud solutions.
"All these tools can prove extremely successful to help Western brands reach and serve Chinese consumers in a consistent and effective manner," he said.