Scottish parliament backs call for new independence referendum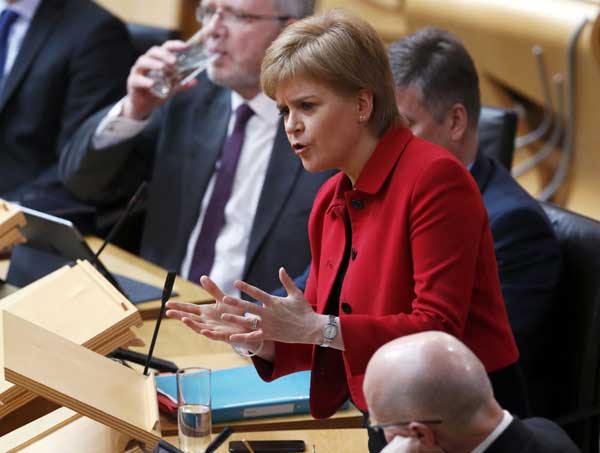 Scotland's First Minister Nicola Sturgeon attends a debate on a second referendum on independence at Scotland's Parliament in Holyrood, Edinburgh, Britain, March 28, 2017. [Photo/Agencies]
LONDON - Scotland's First Minister Nicola Sturgeon won a major victory Tuesday in her demand for a new Scottish referendum.
Her governing Scottish Nationalist Party (SNP), supported by Green Party members of the Scottish Parliament, backed Sturgeon's bill for a referendum to take place between autumn 2018 and spring 2019.
Sturgeon wants the people of Scotland to have a say on the destiny of their region before a final deal is agreed on the terms of Brexit between the British government and Brussels.
The SNP leader welcomed the vote at Holyrood of 69 to 59 in support of her bill.
Scottish people held a first referendum in 2014, voting to remain as part of Britain.
British Prime Minister Theresa May has not ruled out a second referendum for Scotland but has insisted this will not happen until the end of the Brexit negotiations.
This point was emphasized by the Secretary of State for Scotland David Mundell, who said Westminster would not agree to give the legal authority needed to allow a second referendum.