Home / World / Asia-Pacific
Candlelit rally held in South Korea to demand truth behind Sewol ferry disaster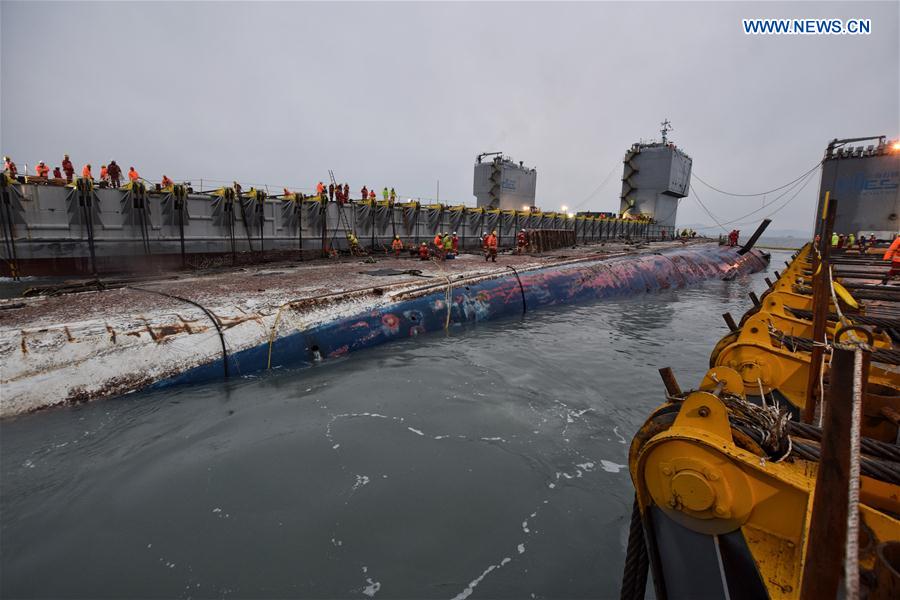 The sunken passenger ferry Sewol is seen in waters off Jindo Island, South Korea, March 23, 2017. The sunken South Korean passenger ferry Sewol was lifted successfully, officials said on Saturday. [Photo/Xinhua]
Park was grilled by prosecutors on Tuesday over the corruption scandal that led to her impeachment.
Local media speculations say it would be determined early next week whether to take Park into custody.
Earlier in the day, people visited a memorial altar inside the square to mourn the victims and the nine missing passengers. People waited in queue to lay white chrysanthemum before hundreds of portraits.
Some shed tears after the mourning, while others took a look around the altar. Sculpture of yellow ribbon, which symbolized the victims, was set up with photos of the missing people attached.
Group photos of the deceased students, taken a year before the disaster, were displayed on the wall of cloth tents that have been pitched for almost three years.
Inside the tents, some of the bereaved families, politicians and civic group activists staged hunger strikes in 2014 to protest against what the families called the "deliberate hindrance" to investigation into the accident.